Well hello you lovely lot and how are you all? I do hope you are surviving this awful weather, what's it like where you are? Here in Sheffield it is cold, windy and we had a load of snow descend on us last night! Never the less I intend to cheer you up this morning with this delightful wedding by Maggie and Jeremiah from Margo and Mia. It's a gorgeous wedding where the ceremony and reception have 3 months between them. The bride and groom chose a beautiful outdoor ceremony which was simple and intimate. The reception was then held 3 months later where they invited all of their friends and family and pulled together lots of handmade details to make the venue look super gorgeous.
'It was intimate, beautiful and it was everything we were hoping for. We both felt so much love and support from our families and felt so much of God's glory on that day.'
Adam and Tram were married on 7th June 2014 at The Arboretum in Pasadena and the reception was held on 10th March 2014 at The Elysian in Eagle Rock.  'We had an untraditional wedding. The ceremony and reception were at two different locations and on two different dates. We wanted to just have a small intimate ceremony with immediate family and then a big reception that we invited all of our friends and relatives. For the ceremony, we wanted a good outdoor boho-inspired spot that was also affordable. The Arboretum in Pasadena offered all of those things. It has very beautiful sceneries throughout the park, resembling everything but the busy LA city we lived in. It had many good spots for pictures.  We had just under 100. Most of our relatives are not local so many of them were not able to make it. Most of the guests were our very good friends from church and co workers.  We were engaged for less than two months before we got married (I know, we were the kinda of people that could not wait longer!) so I guess the ceremony was planned just over one month. The reception happened 3 months after that so less than three months for planning the reception.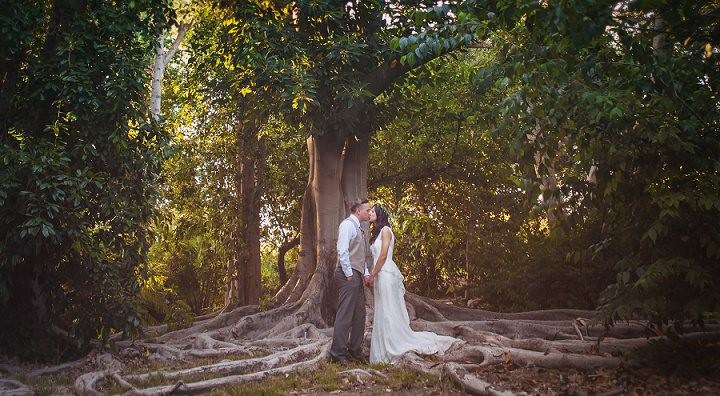 How they met
We were both working for the same company but in different departments. The first week that we met, Adam was cross-training in my department. Our first conversation started with Adam jokingly (which at the time, I had thought he was serious!) asking me if I was checking up on their work. We were together just over a year when he proposed.
The Proposal
I bought an engagement ring for Tram in early May (2014) and was planning to propose in a few months. As the days went by though, a few months turned into one week since I could not take the anticipation. I decided to propose at Griffith Observatory because we had gone on a hike for one of our first dates there (in which Tram got lost trying to park). I had Tram's friend Erin make plans with her to go to Griffith Observatory (on May 15th, 2014) so that I could surprise her when she arrived. My friends Will, Patrick, and Matt came along to support me and take some amazing photos/video of the proposal. Erin brought Tram, she saw me, I popped the question at sunset overlooking all of LA, and the rest is history. It turns out that we even made a German reality TV show (for some reason they filmed the whole thing and asked if they can use it).
How did you allocate your budget
We first had a budget in mind of how much we wanted to spend overall for the whole wedding. Then, we looked for a reception venue that we liked but was affordable. We also knew we definitely wanted a good photographer and a videographer. We secured the budget for all of those and then moved on to food and drinks. We also did a lot of DIYs in order to save money. We did not want to spend a lot of money on both his suit and my wedding dress. I was fortunate enough to find the wedding dress that I really liked but was affordable. I would have been happy also in a less expensive dress. We also saved money by sending out invitations through Evite instead. It actually saved us a lot of time having to write and mail out the actual invitations and was very easy to keep track of RSVPs. Also, since we had everyone's emails, we were able to send out a wedding day info email 2 days prior to the reception that was very useful to the guests.
How did you choose your photographer
I looked over several wedding blogs and I was so impressed with the wedding photos by Margo and Mia. I immediately emailed them and found them surprisingly affordable and easy to work with. We had an untraditional wedding where ceremony and reception were on two dates but Maggie did not have any problem with that. She was very helpful in so many different ways. We were very grateful to have found her for our wedding and definitely will return to her for future photo shoots. I will recommend Margo and Mia to anyone looking for a great and affordable photographer in Los Angeles area.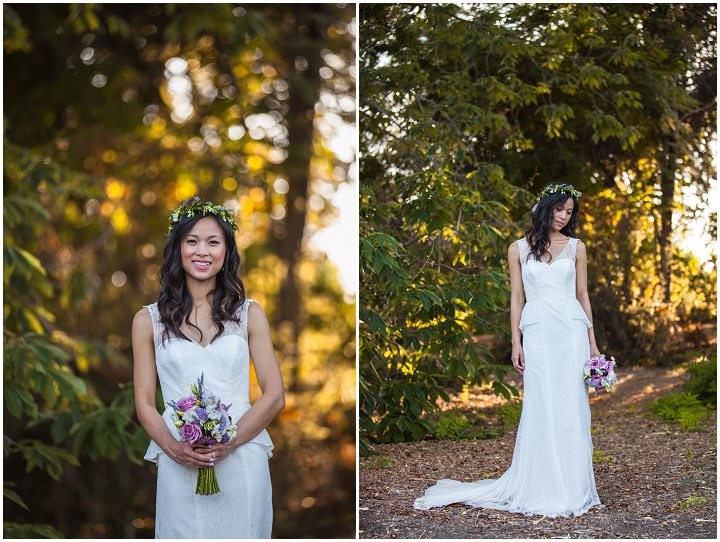 The Dress
My dress was designed by Galina from David's Bridal. My shoes were from Kenneth Cole Reaction. My hair accessory and flower bouquet was handmade by a friend. For the reception, the dress was from ASOS and shoes were by Ivanka Trump.
The Suit and Bridesmaids
He got his tie and waitscoat from Men's Wearhouse. Pants and shirt were from Banana Republic. The boots were Red Wing Iron Rangers. We did not have any bridesmaids or groomsmen.
Theme or Colour Scheme
We are both Christians so our theme was toward glorifying God. We had a lot of our favourite bible verses and worship songs hung throughout the venue. We also mixed in a lot of our favourite worship songs in the reception playlist. We did not have a colour scheme but we tried to incorporate baby blue into a lot of our decorations because that's one of my favourite colours
Flowers
We used all artificial flowers for the reception decorations. We got them from Michael's craft store.
Decoration
We did not want to spend a lot of money on decorations so we did almost everything ourselves. For the centerpiece, we painted beer bottles to repurpose them into vases. We also used wine bottles for other decorations. Most of the materials we used are available in most craft stores. The table runners were handmade by my mom. We got the fabric from Walmart and Joann's.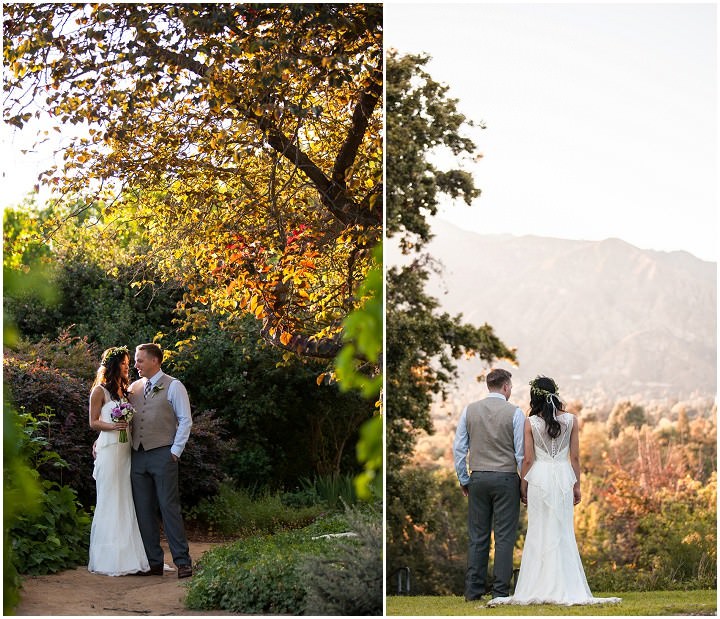 Food
We had King Taco catering all you can eat tacos for two hours. We are both big fans of King Taco and so are most of our guests. When we found they did catering, we had to go for it. My mom also made 200 eggrolls for appetizer. They were beyond delicious.
Wedding Cake
We decided not to have a wedding cake but a big dessert bar instead. We had mini cheesecake, chocolate chip cookie dough, peanut butter bar, red velvet cupcake, and two kinds of cookies. My sister and I love to cook so we decided to make all the dessert (also to save some money).
Entertainment
We asked a friend to bring corn holes to use as entertainment (turned out later they gave us that brand new set as a wedding gift!).
Buy or DIY your Stationery
We DIY almost everything from the signs, banner, centrepiece to wedding favors' tags. I designed everything myself with inspiration from Pinterest.
Special Moments
There were a lot of special moments definitely. We decided to do our own personal vows so the vow exchange was one of the best moments for me. Also, a lot of our friends and family flew in to attend our reception, which we were so grateful for. It was a highlight to be able to see your old friends again on such a special day.
Advice to other couples
Definitely do not spend more than what you could afford. A great wedding does not need to be expensive. Decide what are most important to you and spend money on those things. Everything else, spend accordingly or cut out completely. We decided that we wanted a good photographer and a good videographer to capture this special day, so we spent money on those. We did not think mailed invitations were critical so we cut them out completely and used Evite.
Biggest surprise
Our biggest surprise was that almost everything went smoothly. We had little hiccups here and there but overall it was great. We had a great wedding coordinator that took care of everything. We were very thankful for her. Our guests had so much fun on the dance floor. We had many guests telling us after it was a great party.

Supplier Shout Outs
For more information on Maggie and Jeremiah's work please go to:
www.margoandmia.com
[email protected]
Margo&Mia are two photographers (Maggie Zulovic and Jeremiah Brennan) based in Los Angeles, CA. Our style is photojournalistic and love to capture spontaneous moments of high emotions. We come from the film background so our approach is cinematic with focus on storytelling.