For those of you who are regular readers of the blog you will know all about the Older Wiser Married feature. The idea of the feature is for couples who are married to share with you their wedding story and experiences and also the things they would do differently if they could go back and do it again. We also focus on the positives and the things they think really worked, what they have learnt and how their marriage has changed their relationships.
In the past it has been wedding suppliers that have written in about their weddings but today it is a Boho reader special as we welcome Emily and Mitch onto the Blog to tell us all about their wedding earlier on in the year.
Names –

Emily and Mitch


Date of wedding –

24th May 2014


Location of wedding and venue –

Yorkshire Sculpture Park, Wakefield


Number of guests –

80


How long did it take to plan –

Booked 18 months in advance and took 12 months to plan.
We chose to get married at the Yorkshire Sculpture Park as it is one of our favourite places to go for walks and picnics. We love the every-changing sculptures and breath-taking scenery and we also really wanted to get married somewhere we could return to and visit whenever we fancied, so as soon as we found out we could get married there, we couldn't wait to get it booked. And we were not disappointed! We wanted a relaxed, informal atmosphere, complete with DIY details, to share with our closest friends and family.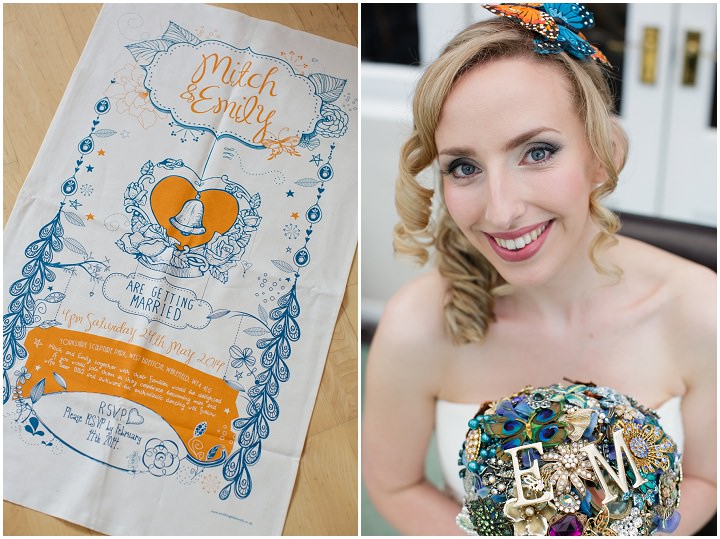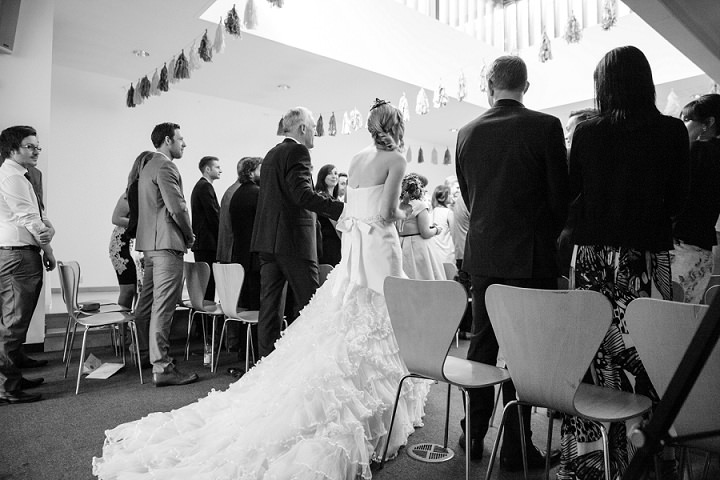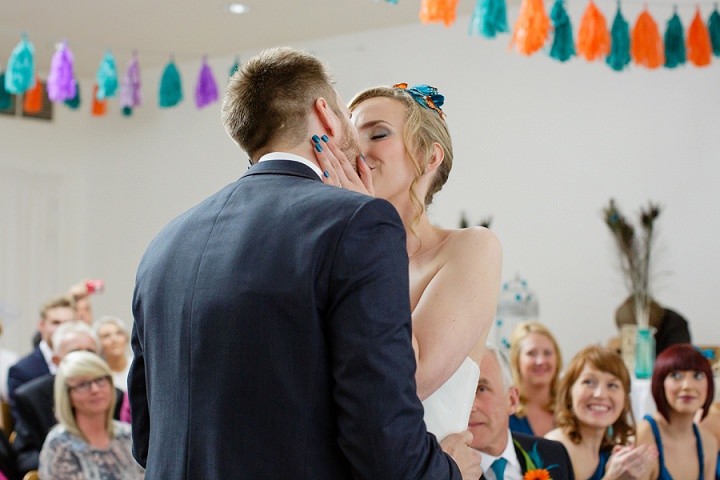 Best Decision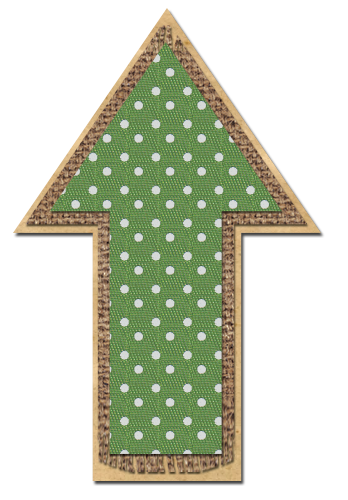 Photographer
Videographer
Cake
DIY details
Dress
Bridesmaid dresses and Groomsmen suits
Writing our own vows
Wedding DJ
RSVPs
Involving friends and family
Photographer
We were over the moon with the photographs taken by the amazing Jaye and Matt Cole of Tux and Tales. We knew from the moment we met up for our engagement shoot that we had made the best decision so far in our wedding planning journey. They are just so much fun and put us completely at ease. The pair captured the memories of our special day perfectly and we couldn't have asked for anything better.
Videographer
This was a last minute decision for us and luckily One Wedding, a Sheffield based photography and videography duo, happened to have our wedding weekend free. Although we felt that we might be a little self-conscious watching it back, we absolutely love our film and have watched it numerous times since it arrived, beautifully edited and packaged.
Cake
A friend of Mitch's made our spectacular wedding cake. We asked for chocolate and vanilla sponge, over 4 tiers. Each tier we wanted to represent a different adventure we would be experiencing on our honeymoon to Sri Lanka and the Maldives. She is such a talented lady and did an absolutely breath-taking job. It was a total talking point at the wedding and we almost didn't want to cut into it!
DIY details
We wanted as many DIY touches as possible at our wedding – from my handmade brooch bouquet (created using brooches collected from all generations and sent as gifts from as far as Australia, especially for the wedding!), to our beautiful favours – hand stitched, personalised, 3D love hearts, sewn by my sister-in-law. Our guests loved them! She also made our cute wedding ring cushion and a painted a canvas for us to use as a 'thumbprint' guestbook. I even had the children in my Year 6 class creating our orders of service – they were so excited to be a part of their teacher's big day!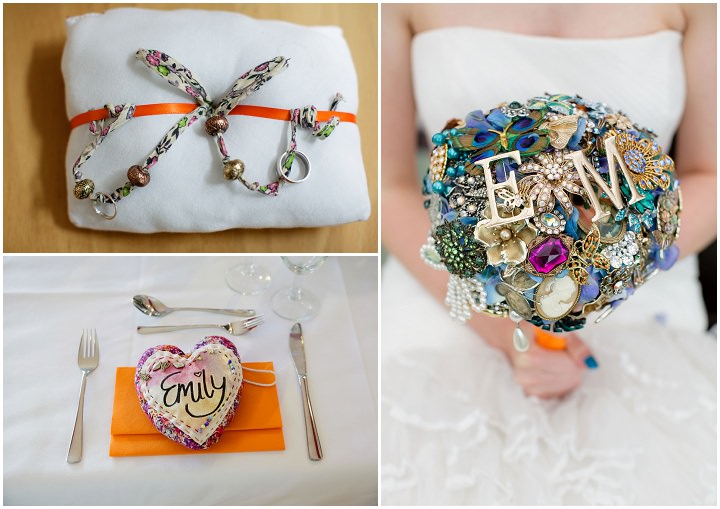 Dress
This was a total bargain and I would recommend other future brides to check out sample sales in your local dress shops. I bought mine from Blissful Daze in Sheffield (which has since unfortunately closed). It was a Pronovias dress, originally sold at £1,995 and I bought it in the sale for £595. The dress was everything I had dreamed of – the mermaid style with a dramatic train – and I received many compliments on the day.
Bridesmaid dresses and Groomsmen suits
Both purchased in sales! We bought the Groomsmens' 3 piece suits in the Next sale and therefore they doubled as gifts for them each to keep. The bridesmaids' dresses were a Two Birds copy style dress from BHS which were also handily in the sale. They were perfect for my gorgeous maids, who were all slightly different shapes and sizes and hence could wear the dress in an appropriate style for them. I think they looked fantastic!

Writing our own vows
We aren't a huge fan of readings at weddings, however we wanted to personalise our ceremony to feel personal to us and so writing our own vows seemed to be the ideal compromise. We wrote them separately and surprised each other on the day. It was a very special moment and one I was so happy to share with our closest friends and family.
Wedding DJ
Our wedding DJ – Disco Wed – came recommended by Tux and Tales and we couldn't have been happier with their services. They created a personalised playlist for us and were both flexible and professional throughout the evening.
RSVPs
After sending out our tea towel wedding invitations (which went down really well – created by weddingteatowels.co.uk), we asked our guests to RSVP in the most creative/unusual way possible and we would pick a winner who would be presented with a prize on the big day. Every day was so exciting; waiting to see what would arrive. We had scrabble board messages, ransom notes and a friend even drew a colouring book of our relationship!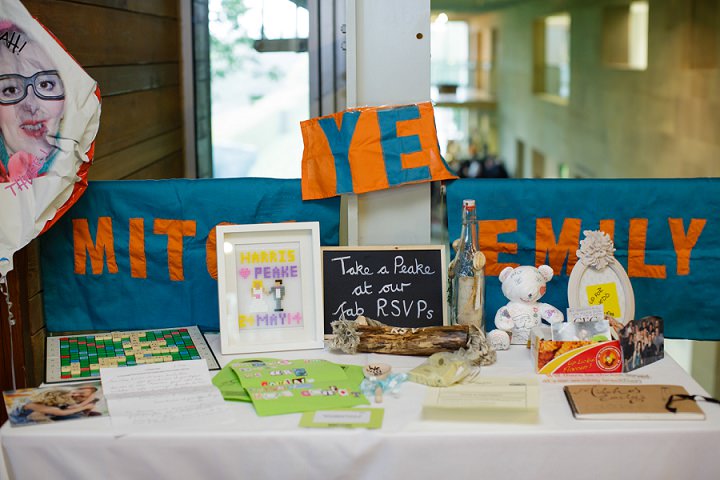 Involving friends and family
Where possible, we tried to involve our friends and family in all aspects of the wedding. My brother's girlfriend did my hair, a friend did my makeup, another friend made the cake, my brother drove me to the venue and Mitch's sister made all our beautiful favours. Mitch's mum passed away just months before our wedding, which was heartbreaking for us during the planning stage. She was remembered via a 'reserved seat' in the ceremony room and Mitch carried a sentimental photograph of her in his pocket watch. This meant that our wedding was all the more personal and meaningful.
What would you change?


Time of wedding
Food
Time of wedding
Unfortunately, due to the YSP being a public museum, we were not able to get married until 4pm at the earliest. This meant we had lots of time to get ready and enjoy spending time with our friends and family before the ceremony. However we would have loved to have had more time to relax and enjoy the party atmosphere after the ceremony.
Food
The food served at YSP is absolutely delicious and we opted for an informal BBQ buffet with all locally sourced produce. It was stunning and the only drawback was that myself and Mitch spent a lot of our time 'circulating' around the tables, making sure our guests were all OK, instead of taking the time to enjoy our own meals.
In Hindsight what would you spend more on and what would you save on
Because we managed to scoop so many bargains, I don't think there would be anything we would change about our spending, except perhaps to spend a little more on the hotel we stayed at the night of the wedding, to make things a little more special.
What you learnt from your wedding day
Not to stress; your day will be perfect no matter what. I actually smashed our mirror table plan the day before the wedding and completely freaked out. However, I soon put things in perspective and realised that the only important thing was marrying my best friend, surrounded by our nearest and dearest.
Don't panic if the weather doesn't play out how you expected. We hoped for a sunny wedding in May, however it absolutely poured down, right until our ceremony began at 4pm. Then glorious sunshine appeared for a couple of hours, to give us just enough time for the photos. Although we were prepared for cute, rainy photos with coordinating wedding brollies, etc. You just have to make the most of the conditions and have fun with it!
Smile, laugh and have the time of your life
Do you think marriage has change things in your relationship?
We already lived together, so not in that sense, but it definitely brings you closer. I also love being able to call Mitch my husband and hearing people refer to me as Mrs Peake. I still get butterflies in my stomach when I hear it now!
Any advice you have for other people getting married?
My main advice would be to not feel pressured to spend a fortune on your big day (although it is easy to do!) Attempt to stick to a budget and make use of your talented friends and family. They will be more than happy to help out!
Thanks so much to Emily and Mitch for sharing her wedding story with us all. Are you married,  Do you think about what you would do differently? I'd love to hear your thoughts!
If you are a wedding supplier or bride who would like to get involved in this new feature then please get in contact I'd love to hear from you. 

[email protected]
For more info on Jaye and Matt's work go to:
www.tuxandtalesphoto.co.uk
www.tuxandtalesphoto.co.uk/#blog
FACEBOOK
@tuxandtales

[jprel]