On Monday I was invited along to a wedding hair workshop by the wedding hair expert Anne Veck.It was a great chance for me to meet the lady herself and to get first hand knowledge of the most asked for wedding styles and how to achieve them.
The workshop had been put on by Style Tech Academy a hair dressing academy in Sheffield who offer hair dressing training, along with hands on seminars and refresher courses, with speakers such as Lee Stafford. Style Tech are also the leading recruitment company for hair stylists.
(Please ignore the poor quality of photography…….I am no photographer and really don't know how to use my camera!)
As a wedding planner I am often asked by my Brides to recommend hair dressers that can do wedding hair. Way to often I hear of brides telling me that their normal hair dresser can't do up dos, or won't come out to their hotel on the day of the wedding, and so many brides want that personal service on the day of their wedding.
For this reason Anne trains other hair dressers on the key wedding looks that brides these days are asking for.
Anne is originally from France but now lives in oxford where her salon is based, most Saturdays are spent getting brides ready for her big day, while her week days are spent carrying out hair trials.
A bit more info about her:
Anne Veck is one of the U.K.'s most in demand long hair and bridal hair specialists. If Anne is unavailable, a member of our Artistic Team can deputise.
We aim to meet your exact requirements for hair and make-up for your wedding day or any other special occasion. We can visit you at your home, hotel or wherever you are going to get ready, or you can visit us at either our Oxford or Bicester salon. If you are getting married on a beach in Bali, we can be there for you.
We can do just your hair or your hair and make-up and of course, we can include your whole party – mother of the bride, mother in law, bridesmaids, friends and relatives. We specalise in men's hairdressing too, so don't forget the groom, best man and ushers!
Anne recommends a trial session in the salon for the bride, if possible, two to four weeks before the big day. Usually, Anne will have an in depth discussion with you by telephone in advance of the trial, to reach an outline of what your require and to quote you an exact price.
So what did we all learn? Anne showed us 5 key wedding looks and broke down one by one how to do them. The plastic dummies look a bit freaky but it meant that Anne could prep all the hair the night before. Most wedding hair needs to be softly curled before it's put up. Anne explained if it can be done suing curlers but straighteners are better as then you don't need to blow dry the hair as well.
Style 1  – Classic Bride and the style that 90% of Anne's brides ask for
curl hair using straighters
section the hair into triangles, take the first section and tie with a band then twist and grip so building up sections
take side top section and twist under then grip, do on both sides
take next side section, twist under again and grip
twist the bottom section and secure to the side with a grip
tease out all the other section of hair, fluff up and add grips to secure
with the front section follow the s of the curl…….finished!

Style 2 – ribbon curls
this style is the same process as the last one, but it's less fluffy and more slick. Using he same process with the side sections but a bit bigger.
instead of leaving the bottom section to hang twist and tuck in
take each section smooth out and tuck around finger like ribbons
take front section of hair and move along the s of the curl and attach

Style 3 – using the hair pad to create volume
Instead of endless amounts of backcombing use a hair pad. You can make these yourself from hair nets and bits of fake hair, you then build the hair around it.
take the front section of hair and twist away, attach the pad with grips on both sides
ake side section of hair and criss cross over the pad
make sure the pad is covered adding volume to the hair
take the side sections and softly grip
use the excess hair to create the deatil.

Style 4 – Using the wand to create curl for hair down
Curling the hair with a wand will give the hair a natural wave instead of a curl, this can then lead onto more of a vintage look, for a 1920s feel, or as we show here a more messed up, natural look.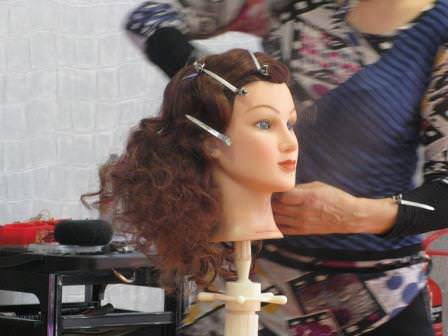 hair at the fron is cliped down to hold the wave in place, while the bottom section is teased to give volume
clips are removed and the hair holds the wave shape
hair is teased and tussled to give a natural curl

Style 5 – the natural knot
This creates a natural, more messy look but is easy to achieve with a collection of knots.
take sections of the hair vertically and tie a knot using the side section of hair, keep ging across the back of the head
take front side section and tease out with your fingers
the knot will follow across teh back of the head
tase out the knot sections for a messy unstructured look

So there you have it, 5 simple styles and how to achieve them. I feel after Anne's expert tutorial with a bit of practice I may be able to do one of these myself….my favourite is the last one, so may give this a go when I have a bit of spare time (when ever that may be).

I can not stress the importance of hiring a professional to do your hair on your wedding day, the last thing you want to be doing is fussing about with hair pins and hairspray, and if a professional does it at least you know it will be secure for the whole day.

I'd like to thank Anne for letting me join in and take picturs on Monday, and Paul the academy owner also.
For more information on Anne's work or the academy got to:
www.anneveckhair.com
[email protected]
01865 727077
www.styletechrecruitment.co.uk/academy
www.styletechrecruitment.co.uk