Hello you lovely lot and how are you all today? Today I am mega excited as I am off for a night out minus baby! Nik and I are off to see Ben Howard which I have ben excited about for ages. I had Ben Howard on loop when I was in labour so his music has a very special meaning to me. I can't wait! But, before that I have this gorgeous French wedding to share with you, which was sent into me by the beautiful bride herself. This is a full on DIY wedding that was all put together for just 6000 euros, which goes to show what can be done on a small budget! I'm sure you will agree that Nicole and Laurent look amazing and so in love! Thanks to Photo Madly for the images.
'It was an organically beautiful day full of touching surprises. Intimate and whimsical, a handmade day filled with love, friendship, and magic'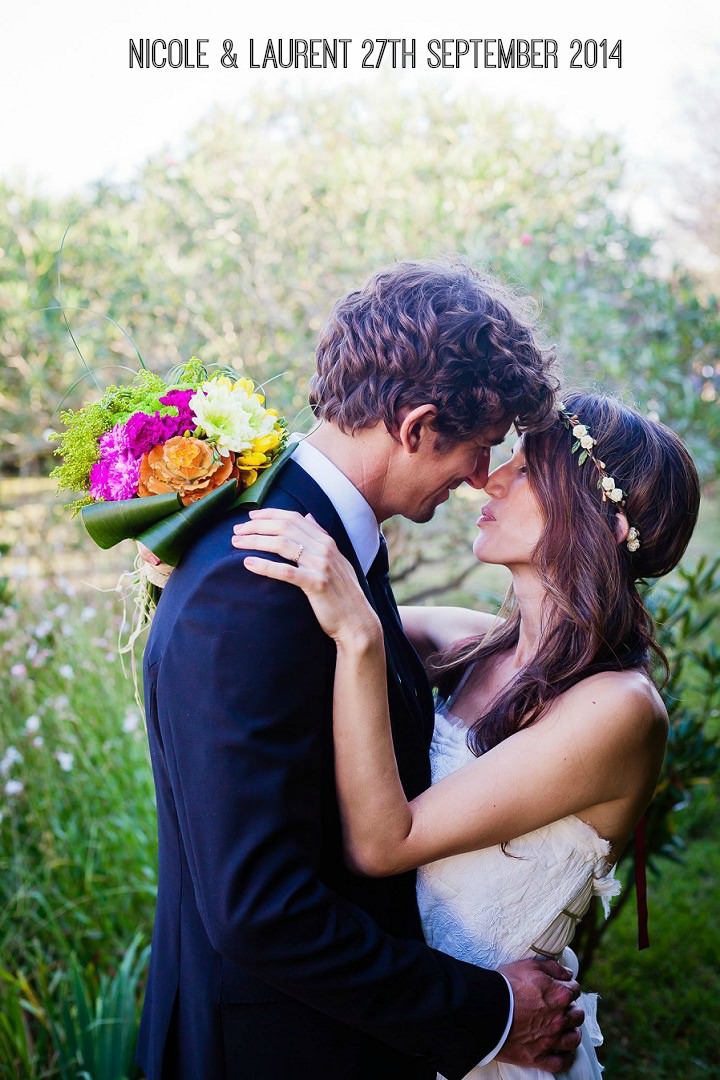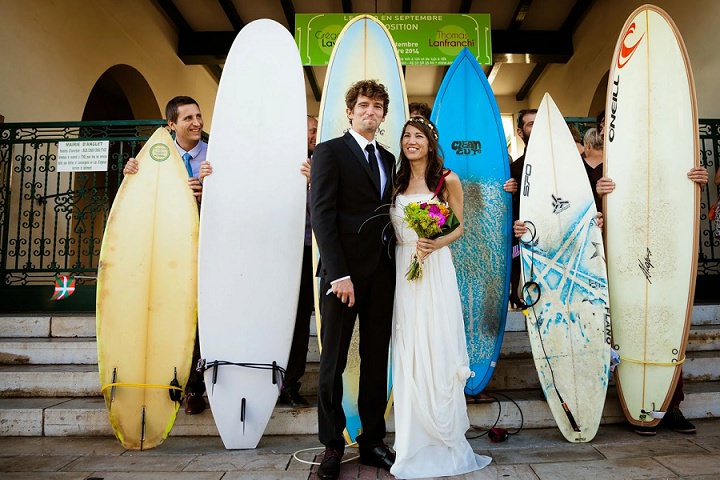 Nicole and Laurent were married on September 27th 2014 the ceremony was at la Mairie (City Hall) of Anglet and the reception at the family home and garden where Laurent's mom (also named Nicole ☺) lives in Anglet, Basque Country, France. 'The family home where Laurent grew up is a beautiful place that is also typical of the region- a traditional Basque-style house and a lush and green garden. We wouldn't have wanted to do it anywhere else since we wanted an intimate affair. Family and friends have had many great memories here over the decades, and we were grateful to continue this on our wedding day. We had 50 adults at city hall/cocktail hour and 30 at dinner, plus about 15 kids of all ages earlier in the evening it took us 3 months to plan.'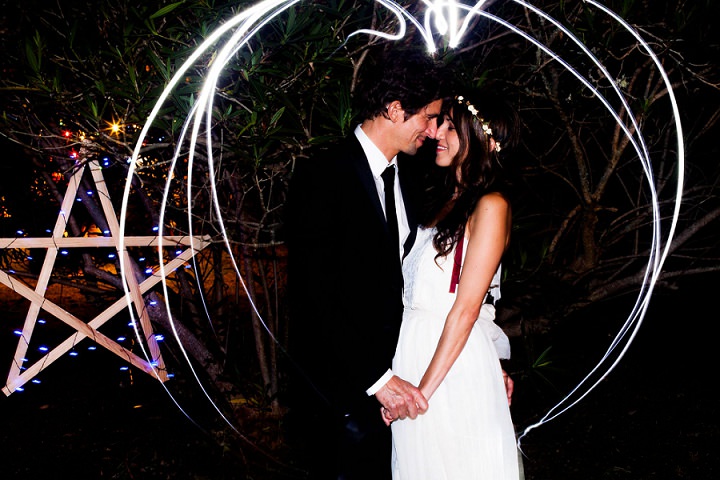 How they met
We met by the beach in the Landes, a coastal area in France just north of Basque Country. I am originally from southern California but had studied pastry in Paris, and I had recently taken a bit of an unknown leap at an opportunity to do another stage in pastry in France, by way of New York. Laurent is a surfer/aeronautical engineer who happens to really love pastries. He is from the coast of Basque Country, but has also lived in Paris as a student, as well as in South America and Spain. Both of us love to explore and eat all types of food, and we laugh a LOT with each other. Our first date (which included a visit to a beautiful pastry shop in St Jean de Luz) was 9 hours and magical, and even though it was uncharacteristic for both of us, we were inseparable ever since. It was a "coup de foudre" (love at first sight) story to the highest extent. But besides the spark (which is equally important), to us that also means someone who has all of the values you are looking for, who you can be exactly yourself with but brings out the very best in you, and also someone you can really grow with as well.
The Proposal
We knew from the beginning that the other was the one we'd been holding out for. So we pretty much set a timeline a few weeks into our relationship to get married 6 months later, but we didn't tell anyone or start planning anything until at least a few months had passed. Laurent "officially" asked me to marry him in Paris in June. We met in February and were married at the end of September. A lot of people from the outside might think we were crazy, but those who know us well or saw us together could tell we'd met our once in a lifetime match- and were never in love before like we are with each other.
How did you allocate your budget
We estimated about 6000 euros and we pretty much stayed within this. About 50 percent went towards food and wine plus reception rentals (dishware, etc). Trial and error for the DIY projects can take up a good amount- but we wouldn't have done it any other way.
How did you choose your photographer
We are very grateful to have had a good friend photograph our wedding, Erika Szostak of Photo Madly, whose photos really captured the organic magic of the day and allow you to feel the love even if you weren't there. She was there as a guest so we didn't really have a plan and she didn't have all of her usual equipment- and I admire her since she did it with her one month old and 3 year old in tow! We pretty much just let her do her thing as the day unfolded, and she did amazing work. I am especially grateful for this as I have family members and a few close friends who were unable to fly out, and they really get to experience the feeling of the day through her images.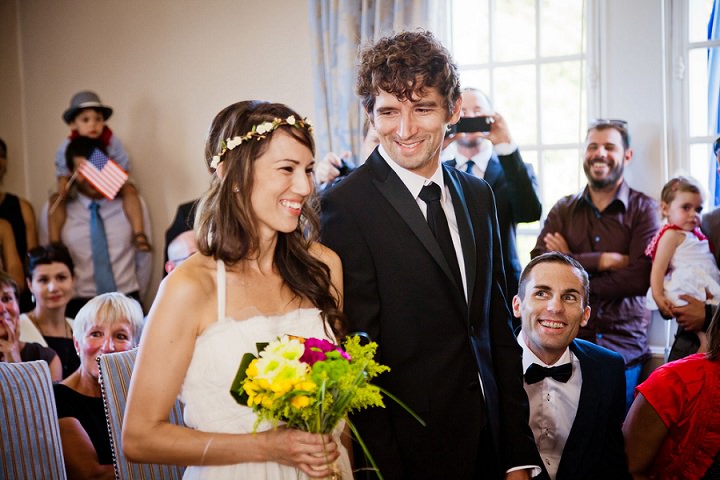 The Dress
I found my dress on Etsy, handmade by Lucia Squillari in Italy (Larimeloom) who makes organic, feminine and flawy dresses. My flower crown is by Pretty Little Titch in the UK (also Etsy), and my sandals were by Seychelles. I had vintage-style sapphire Swarovski crystal stud earrings by SohoCraft. Attached to my bouquet was my grandmother's locket, also worn by my mom and my sister-in-law on their wedding days.
The Suit and Bridesmaids
My husband's suit was also from Italy, by Ungaro, and his shoes were by local shoe store Larralde. We didn't know until after the wedding that we had both gone Italian-style, and it was fitting since our surprise getaway car was also Italian, a Fiat 500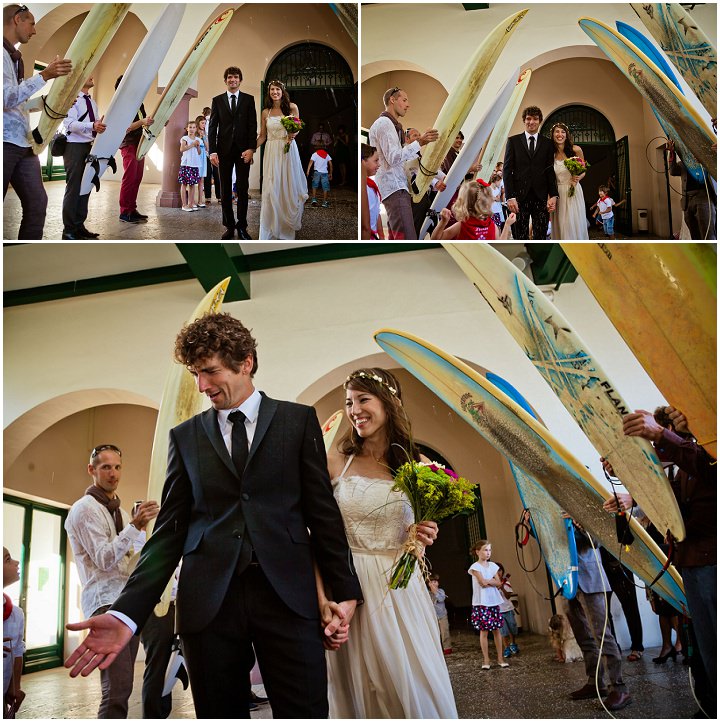 Theme or Colour Scheme
Whimsical and relaxed with a touch of class
Flowers
My bouquet and vases were arranged by a girlfriend of mine, Sarah Ho. We went to a flower shop the morning of the wedding to pick out all of the flowers for the day, and spent about about 47 euros total. I had an array of countryside flowers in different colors. I had a couple of inspiration pictures for something rustic yet pretty for my bouquet, but she came up with something completely original and even more beautiful than I could have hoped for.
Decoration
Yarn-wrapped wine bottle vases, painted votives, wine cork burst, craft paper pinwheels, a few pom-pom flowers, tables suspended from trees. We were lucky to have the beautiful setting of the garden and PERFECT weather (rare in this often-rainy region)- but we did have a tent cover set up on the terrace just in case!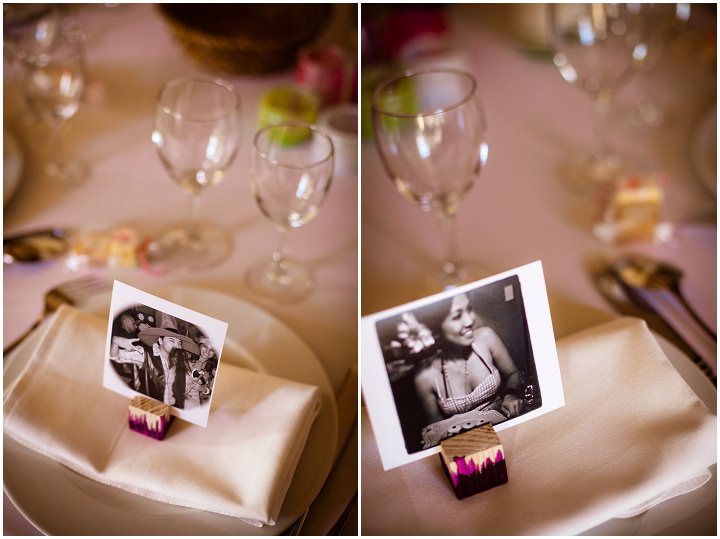 Food
Tapas that were both Spanish and French inspired, paella for dinner, and of course a cheese platter- and many bottles of Champagne and other wines, French and Spanish
The tapas were catered by a friend of a friend who does catering on the side, and makes everything delicious. We chose him after tasting and turning down two "real" caterers.
The paella (a favorite dish of both of us) was catered by La Cuisine a Jules in Bidart, best paella in French Basque Country. The beautiful cheese platters were catered by Fromages & Compagnie, which of course included cheeses produced in the region such as brebis (sheep's cheese).
Wedding Cake
I wanted the challenge of making my own wedding cake-my pastry experience is more in traditional French pastries and restaurants than stacked cakes- but I'm glad that I did. I did it all in steps on separate days, starting with the cake topper made with sugar paste. The cake topper represents our Chinese astrological signs, Tiger and Horse, who are of course a match made in heaven. The ombre cake includes 3 flavors- chocolate-caramel, almond-rose, and the top (to be eaten in one year) is triple chocolate.
I wanted the dessert table to represent American (the wedding cake), French (macaron lollipops), and Basque (the gateau Basque, an almond cake filled with preserved cherries)
Entertainment
We had a playlist going of favorites from Motown and French alternative to jazz and house music. During dinner we were surprised by our musician friends with two beautiful serenades, as well as by all of our friends with a Beach Boys-style serenade!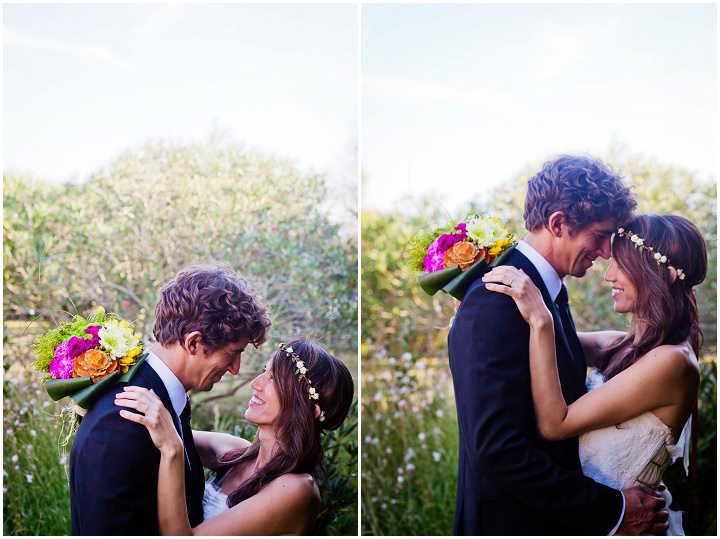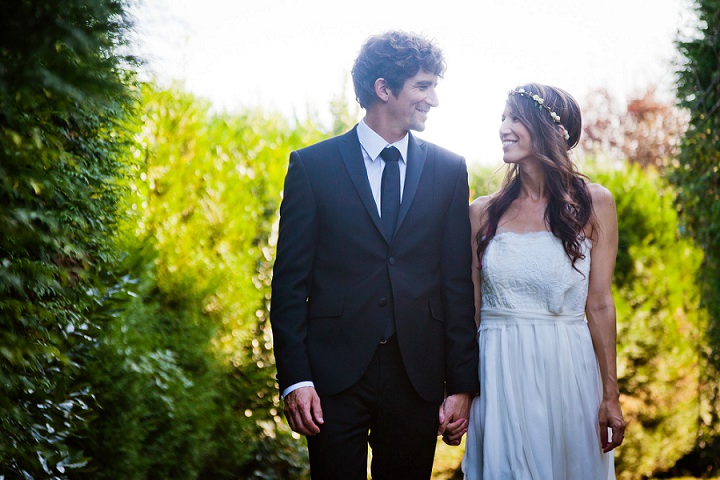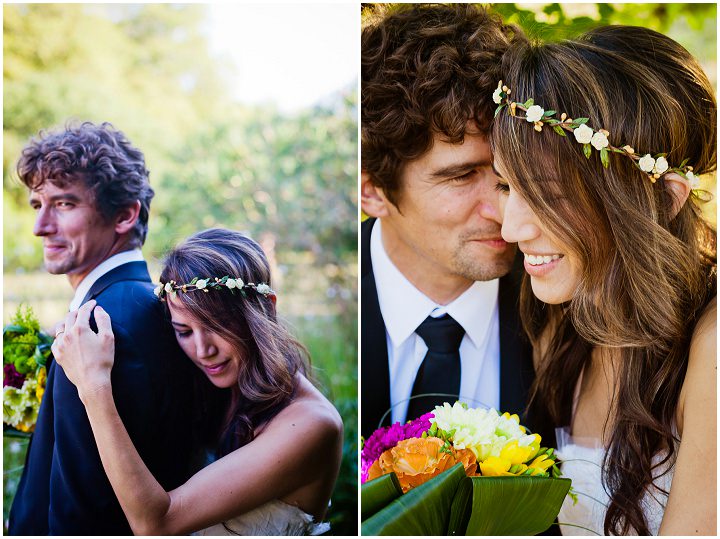 Buy or DIY your Stationery
We designed and printed our own cloth invitations to look like a treasure map of Basque Country, with little markers such as sheep in the countryside and the Guggenheim in Bilbao. It took a lot of time but it was one of our favorite details that we worked on. We did it using 100 percent cotton, starch, freezer paper, and an inkjet printer.
Personal or Handmade Touches
-We DIY'ed almost everything- cloth invitations, all decorations listed above, wine glass charms, honeymoon fund piggy bank, favors, and wedding cake; bouquet and flowers DIY'ed by a friend
Our "Family Tree"
-Honeymoon Fund Piggy Bank made with newspaper, cardboard rolls, flour and water mix, and spray paint
-For our guestbook (livre d'or), we found vintage postcards online and a free-standing mailbox reclaimed from family storage. We chose favorite destinations and a few dream ones- we asked our guests to do the same when signing us a note, and they dropped them in the mailbox.
-Tables suspended from trees in the garden were also reclaimed from family storage
-Wine charms (marque-verres) made with recycled wine corks, marked with the initials of each guest; and wine charm holder made with scrap wood
-For place markers we used memorable or funny pictures of each guest, held up by sawed-off blocks that were sanded down and dip-dyed
-Our favors were homemade marshmallows (guimauve): passion fruit and caramel-wrapped vanilla, and Neapolitan for the kids; along with homemade chocolate chip cookies
-Flower straws attached with craft paper leaves
-Kids' table was covered with city scene coloring placemats. The crayon holders were decorated with melted crayon wax
-Craft paper pinwheels that spin, made with paper straws, beads, sewing kit pins, and trimmed down erasers
-Tapas labels and signs carried by jungle beasts and farm animals- made with plastic toys, spray paint, and wire
-Tea sachets with foam and craft paper hearts
-We know the DIY photo booth is pretty common these days, but it's still a fun activity for guests- and we found a 48-piece set on Amazon.fr for 10 euros!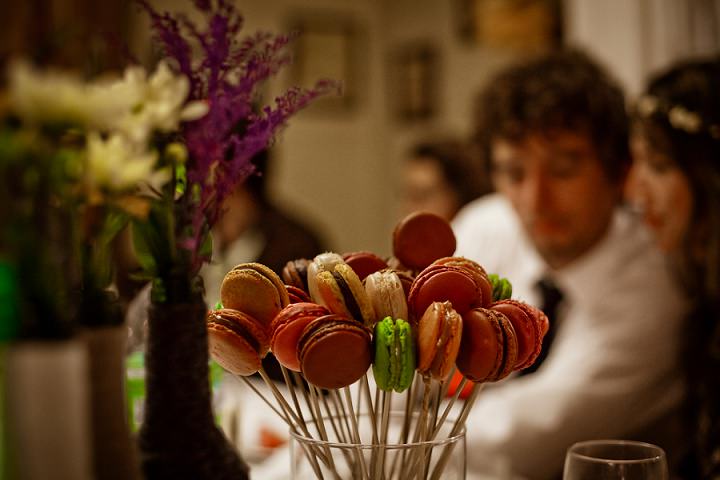 Special Moments
All of the surprises organized by friends:
Their children dressed as "festayres" in white and red (the colors of Basque Country's Pamplona and Fetes de Bayonne), waving the American and Basque flags and jetting handfuls of rice
The surfboard arch as we were leaving la mairie (organized by whomever happened to have a board in the back of their car at that moment)
The getaway car decorated with Basque and American flags, hearing the clanging of the hidden pots as they dragged out behind us
Bilingual sonnets during dinner, written by our French witness Tito, and our British witness Mark
Beach Boys-style serenade by all of our friends and family present
Beautiful serenades by our musician friends, Michel and Steph Harispuru, who did lovely renditions of two songs by Camille, a favorite French artist
I did a bride's speech after dinner in French and English and it was difficult because I got more emotional and shaky than I expected, but I'm glad I made it through. Apparently I made a lot of people tear up in addition to my husband!
Bringing together loved ones from different parts of the world for the first time- and everyone getting along really well and being stoked on the occasion and with the memories afterwards.
Getting home (after being carried over the threshold) in the wee hours and feeling ovecome with the emotion and beauty of the day, feeling so blissed out to be married to each other
Advice to other couples
DIY is the way to go for any couple who likes to work with their hands. But of course give yourself about more time than you originally estimate for everything ☺! Give yourself time to experiment or test trial, as some projects might not turn out how you expect on the first try-or you might decide to go in a different direction. Delegate! We didn't do that completely for the day of the wedding, and we had been turning down offers for help the weeks before-thankfully we had friends who stepped in big time.
Biggest surprise
The biggest surprise of the day was just how everything unfolded- it was a laidback affair yet even more beautiful, touching, and amazingly memorable than we could have ever imagined, and our friends and family say the same. We loved all of the surprises from friends, but I think everyone's favorite memories of the day were the sonnets and the serenades. The Beach Boys-style serenade in French was so much fun and original too because they changed the lyrics completely to "Barbara Ann", yet you still had the same breezy, beachy, (and a bit unrehearsed) feeling of the original song. We felt so blessed and loved by it all.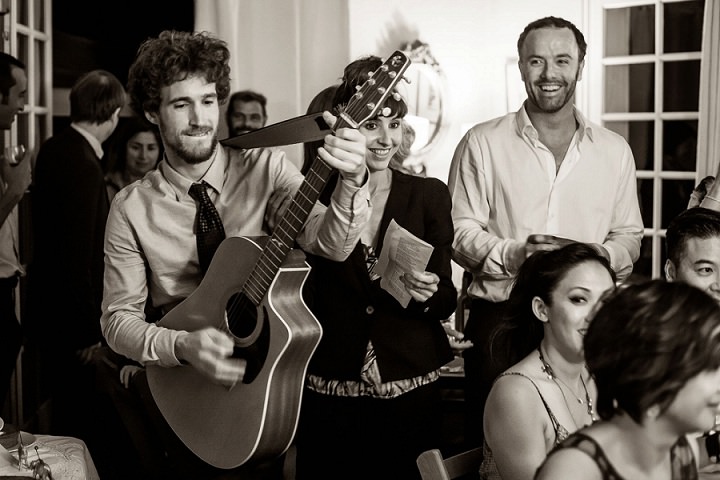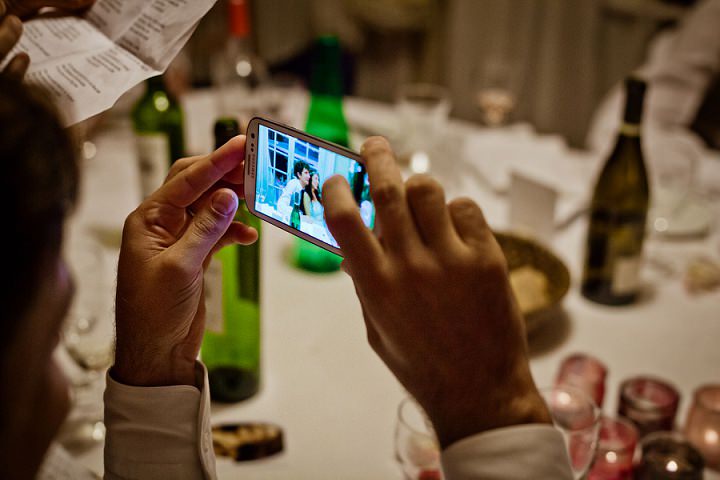 Supplier Shout Outs
For more information on Erikas's work please go to:
www.photomadly.com
https://www.flickr.com/people/erikaszostak/
FACEBOOK
@PhotoMadly

[jprel]