---
---
---
January is the time for looking at the upcoming year and discussing what is going to be on trend, not only in the wedding world, but in fashion and interiors and all areas of design. As a wedding blogger I often get asked to predict trends for weddings, so today I have enlisted the help of Charlotte Nichols Weddings . Charlotte is here to give us her expert design and planning knowledge, as she shares with us her hottest wedding colour predictions for this year.
Colour Predictions for 2018's Hottest Weddings
Happy 2018! If you are a newbie bride-to-be, a very warm welcome to the wonderful, and often mind-boggling, world of weddings. Don't worry, you are not alone and luckily you have all us wedding nerds to walk you through the process. With a new year brings a new influx of wedding trends, and 2018 is set to be a big year for going bold and being brave.
Personally, I am not a great fan of the term 'trends'. At Charlotte Nichols Weddings we are all about design-led and effortlessly unique weddings that are the perfect reflection of you as a couple. That means, crafting one-of-a-kind, artistic designs that are overwhelmingly authentic and timelessly sophisticated. Basing your wedding design on trends alone will mean that you look back in several years time and wonder what on earth you were thinking! Having said that, I do off course have my favourites and the influence of trends on our design choices is inevitable. And sometimes, big, bold trends give us the 'permission' we have been seeking to push outside of the box / beyond the boundaries.
When we talk about wedding design or style, naturally one of the first things that will come to mind is colour. Colour has a HUGE impact on the overall aesthetics of the wedding day and, as such, can play a big part in the overall experience – which is what it's all about right? So let's delve a little deeper into the what hues will be hot this year!
Ultra Violet
So let's just say that the 2018 Pantone Colour of the year has caused some controversy within the wedding industry. Some being reminded of the days of the 'Dairy Milk Wedding', and others excited to start experimenting with what Pantone describe as a "dramatically provocative and thoughtful purple shade." But needless to say, this love-it-or-hate-it shade is going to have a presence in this year's colour palettes, even if just subtle touches for an element of mysterious luxury.
And because I am all about 'the understated wow' and helping brides achieve that effortless style, my take on the pantone colour of the year is all about putting the cool back into cadburys.
Touches of ultra violet could come to play in your stationery; think about including crystal elements such as amethyst, perhaps an injection of colour into your tablescape with vibrant purple glassware, or incorporating the shade in some funky neon signage to add some personality and fun to your event (also predicted to be a big trend for 2018).
Black Accents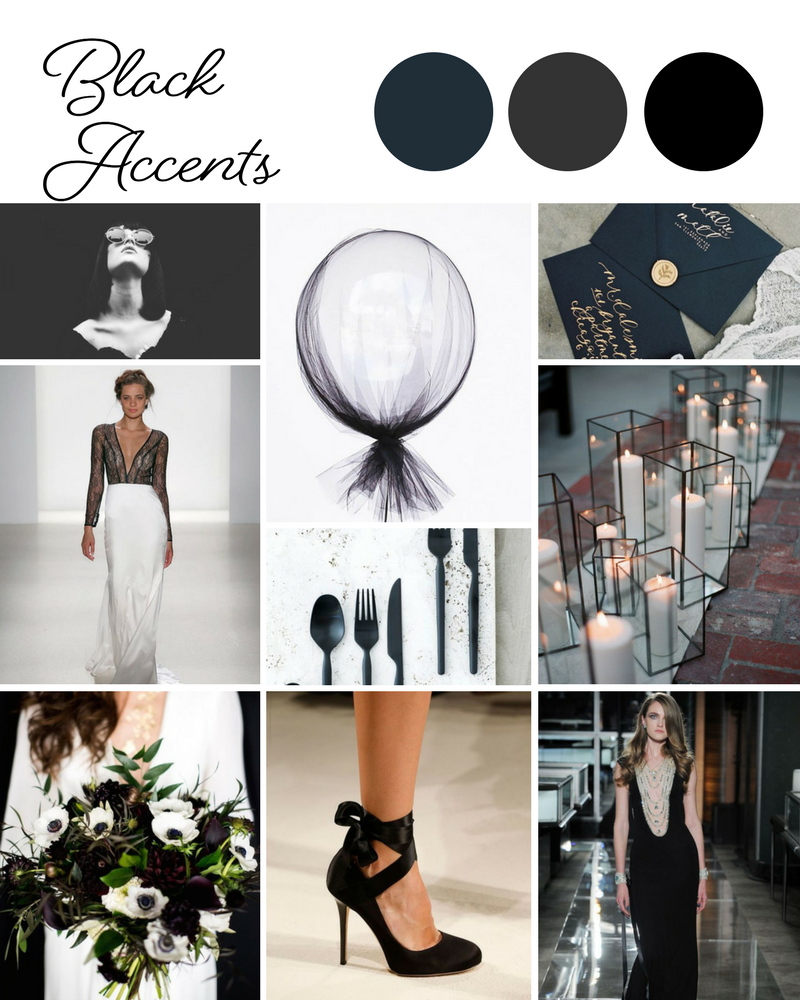 ---