Summer seems like a distant memory at the moment, even though I was wearing sandals only last week.  All this rain makes me feel that winter is well and truly on its way! However,  todays wedding is full of lovely sunshine and reminds us all of what a lovely summer we had. Lucy and Daniel who are todays gorgeous couple made the most of the lovely weather.  They hired a vintage ice cream van which kept their guests entertained, as well as creating some fab photo opportunities. This Rustic wedding takes place in a gorgeous barn and they really went to town with all the DIY and homemade details. They really did make this wedding their own. Big thanks to K&L Photography for the lovely photos.
'More amazing than I ever imagined – officially the most we've ever smiled! Wish we could do it all again!'
Lucy and Daniel were married on 16th April 2014 at The Ashes in Endon, Staffordshire. 'We looked at the full range of wedding venues from tipi's in a field to stately homes. Most of the venues we looked at just felt too formal, and just not very 'us' – we're just not very 'formal' people. The Ashes is a blank canvas so you could literally go for any style of wedding here. As the barns are so rustic they lend themselves to a more relaxed wedding theme, which is what we knew we wanted. As soon as we walked into the venue we both knew it was the right one. Nothing pretentious or too formal about it. We really didn't want our guests to be standing in a room being served tiny canapés by waiters and waitresses surrounded by classical music. I love everything rustic/handmade so the barns just fit perfectly to the theme in my head. The barns are also not huge, and nor is the outside space – it's beautiful, but not OTT 'grand' so we could have the more intimate wedding that we wanted. The fact that there's are 2 barns means that there's no turfing guests out in between to re-dress/move chairs etc. We had 65 people attend in the day and 100 at night. We booked the venue in Dec 2012. We were planning the whole time but very on and off. The last 6 weeks were a mad rush!'
How they met
Get ready for the romance……….We both worked part time at Morrisons while we were at Uni. We have been together since November 2007.
The proposal
This bit makes up for the last question. He booked a weekend away for us to Grasmere in the Lake District. The first place we ever went away together when we'd not been seeing each other for long. We went for a long walk and he got down on one knee at the top of a very big hill in the middle of nowhere. I was sweaty and wearing walking trousers. Although it was the perfect spot and he knew I'd go mad if he did it where there were any other people!
How did you allocate your budget?
We wrote a budget, then pretty much ignored it! We obviously had a total spend in mind and couldn't literally not work to a budget but it really didn't go to plan in terms of what we spent on what.
Our most well-spent money was the band and the photographers – both worth investing in. The band was just amazing, I'd have paid good money to see them. Worth a thousand DJ's. The photography is all you have to remember it by afterwards and we couldn't be happier with the outcome.
Why did you choose your photographer?
Again we didn't want anything too formal. I always prefer photos of people when they don't know that they're being taken and this was very much the style of K&L – very natural and more arty than traditional wedding photographers, without being OTT. Tom and Liam were great as soon as we met them, and we knew that they 'got' what we wanted. I didn't want to have to stand posing for photos, nor did I want the guests to have to.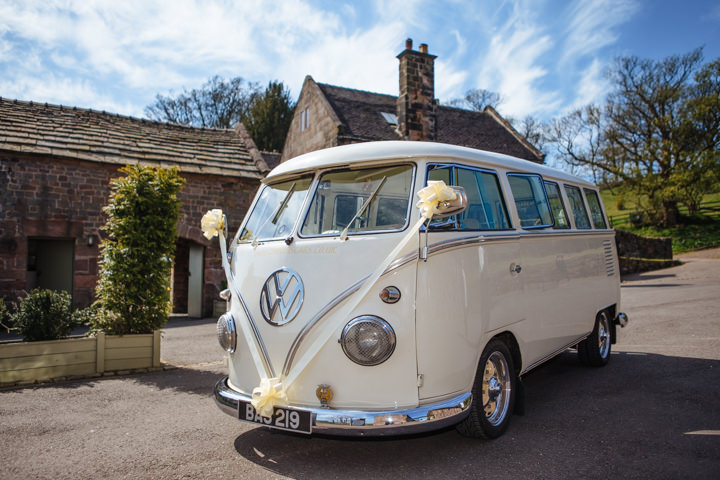 The Dress and accessories
My dress was by Justin Alexander.
I had a flower pin from next in my hair, a pearl bracelet from not on the high street and my shoes were by Ruby Shoo – I'd bought them a couple of years before in the sale from a little boutiquey type shop in Cornwall and never worn them so I found the perfect opportunity.
The Suit and bridesmaids
The suits were bought from Next the ties from Paul Smith and shoes from Ted Baker.
The bridesmaids dresses were Alfred Angelo.
The theme or colour scheme
I suppose the main theme was purple because the bridesmaids dresses were purple and my shoes matched them. The wedding overall didn't really have a theme. I wanted the vintage tea party/fete type theme and so had all colours in the reception barn. Bunting featured highly!
Flowers
The flowers had the wild flower look really – small headed varieties, cut and tied quite roughly.
Mine and bridesmaids flowers were different shades of creams and purples.
We then had tiny twine-tied bunches tied on the ends of the rows for the ceremony, loose cut flowers in jam jars on window sills and cream enamel jugs with very bright, all-colours of flowers in for the table centre pieces.
The men's button holes were also tied with twine. I think twine featured as highly as the bunting!
Decoration
In the ceremony barn we just hung a huge wicker heart on the wall. In the party barn we had bunting overhead. Outside we had tissue paper poms hanging from the tree.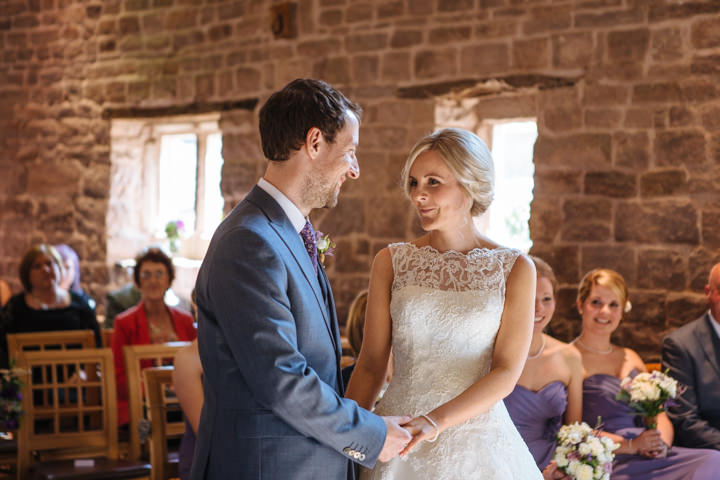 Food and wedding cake
Instead of canapés we had a vintage VW split screen camper van which was an ice cream van called Florence!
After ceremony drinks were beers for the boys, prosecco with homemade damson gin in for the girls and cloudy lemonade served in milk bottles for the kids.
Our meal was a ham hock tart, then there was a choice of main between lamb shank and pork loin, and a trio of desserts.
Our evening food was bowls of chilli with wedges and sour cream.
My sister made our wedding cake – it was possibly the biggest heaviest cake knows to man! 3 tiers of cherry brandy soaked fruit cake and it was amazing. I think we had a piece every day for a good 3 months after!
Entertainment
The VW ice cream van was entertaining in itself. Everyone loved it. The kids had disposable cameras with an 'I spy' list of things to take pics of.
In the evening we had a photo booth which went down a storm. Eeveryone knew each other by the end of the night after people had photo-bombed other peoples pics!
The band in the evening were the live wires. They were fantastic and the dance floor was never empty.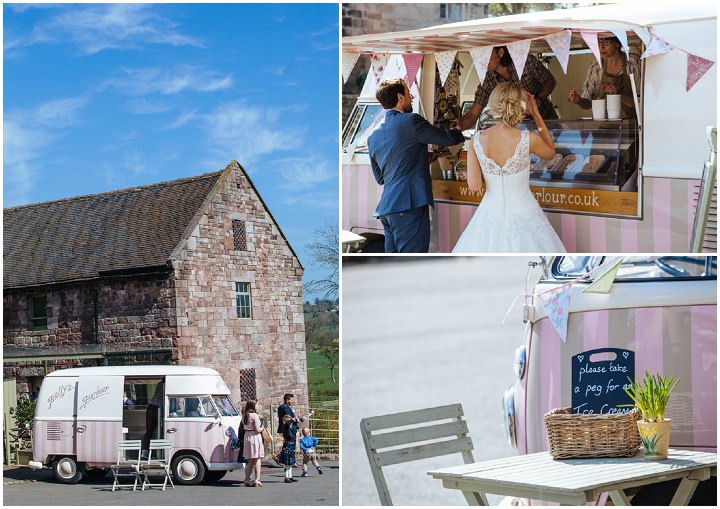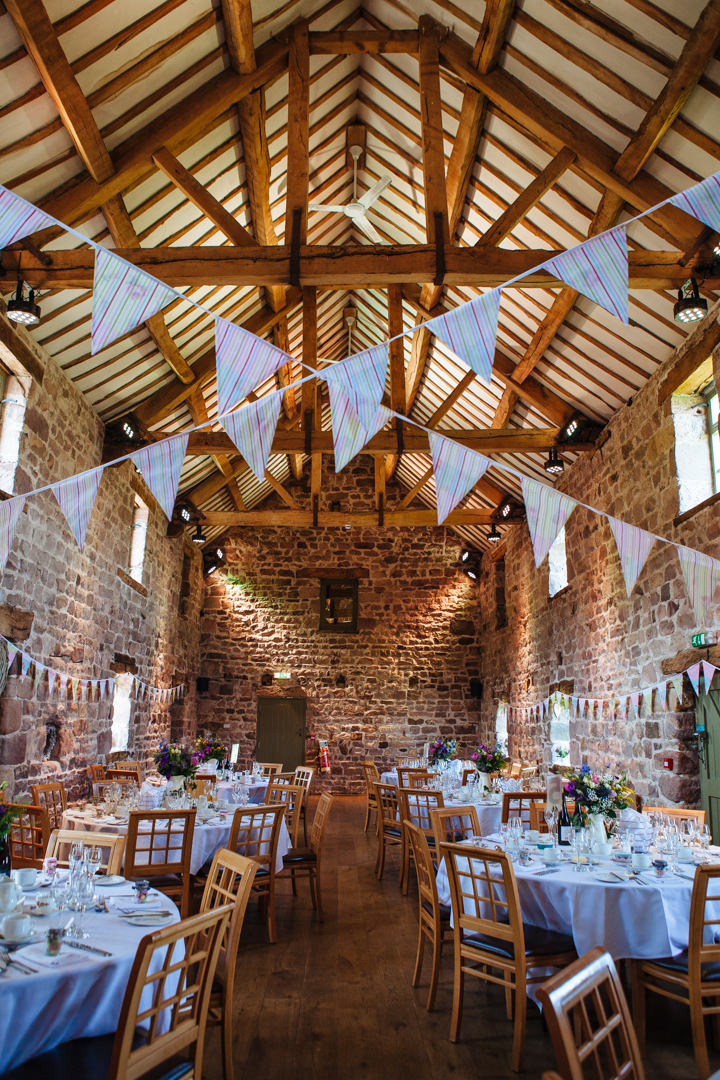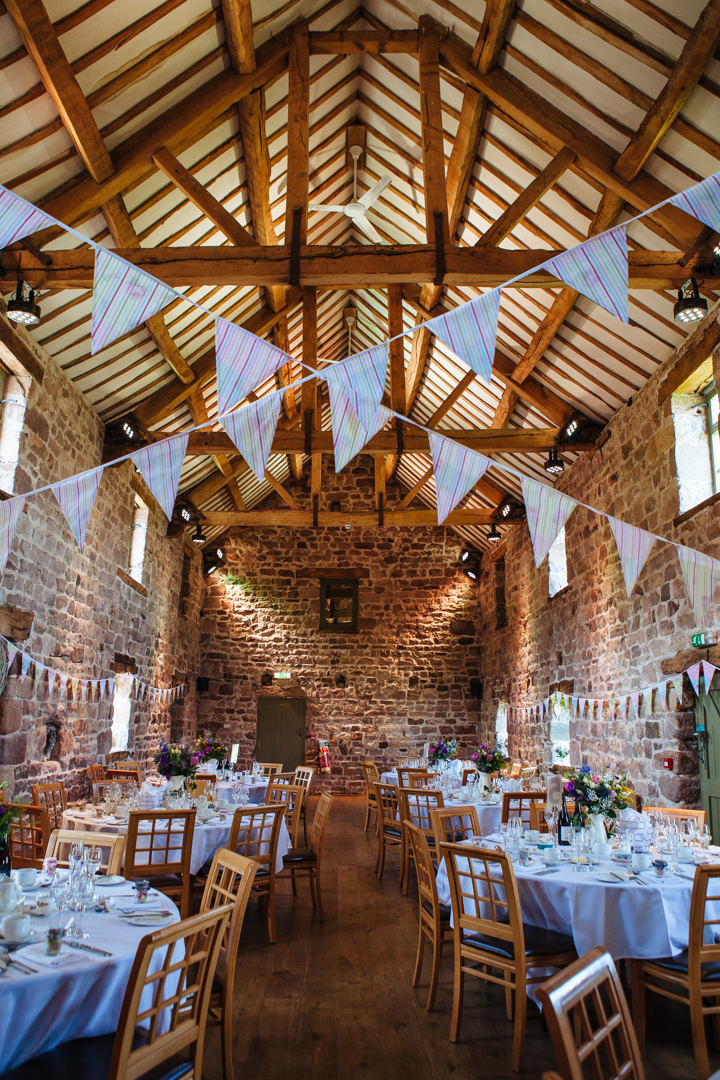 Buy or DIY Your Stationery
DIY!
We made save the date cards mainly we sent these because we were awkward and got married on a Wednesday so we knew people had to get it off work. They were tags cut out of rustic, recycled style brown card and we ordered a big stamp to stamp onto it. Made mini paper bunting to decorate and tied the tag with twine.
We also made the invites – 3 separate cards (invite, food choice and RSVP) again on rustic card, all bundled together. They were tied with a strip of flowery fabric and then twine over the top
Handmade or personal touches
Everything that could possibly be DIY was DIY!
Me and my mum made all the bunting, it took days!
We bought mismatched teacups and saucers and made candles in them for on the tables.
We made the favours which were mini jam jars filled with mini eggs, topped with various mismatched fabric toppers (mainly old tops that I cut up!) and tied with twine.
We made the tissue paper poms.
We made a wishing tree out of tree branches and then made tags for the messages.
We made the table plan with a multi frame photo frame.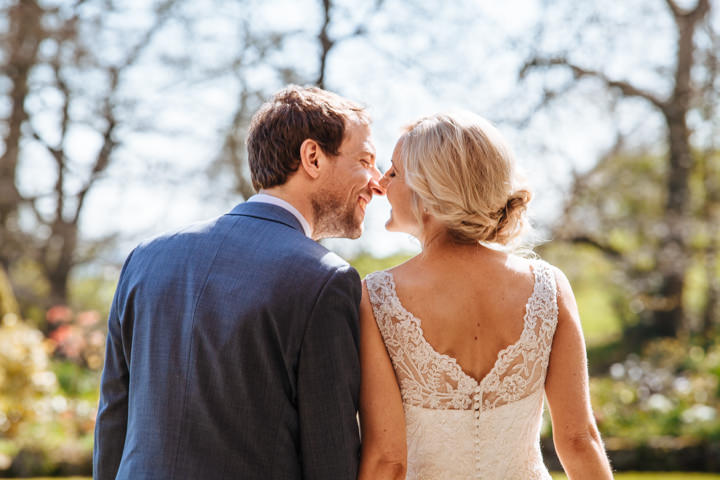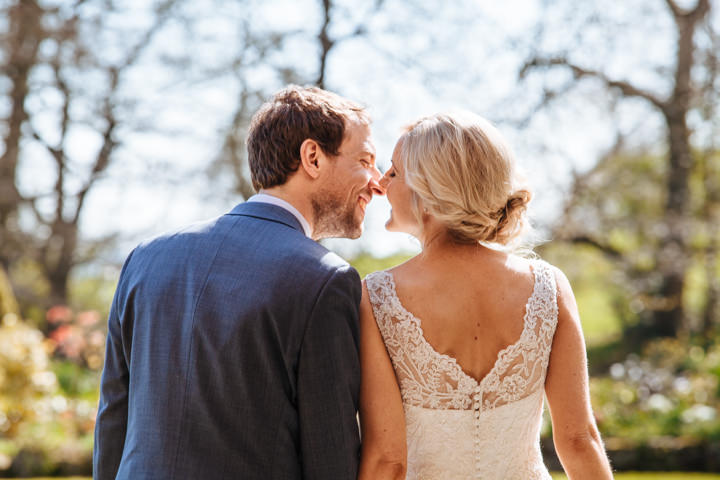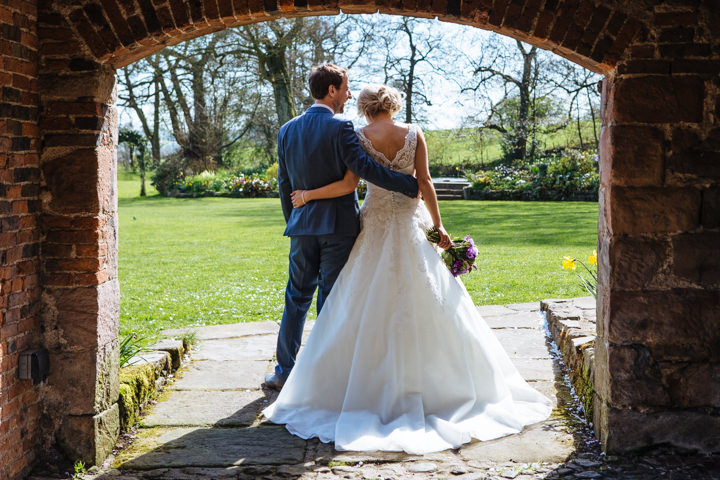 Special moments or highlights from the day
The hour or so in the afternoon stick in our minds when the ice cream van was there. Everyone was relaxed and enjoying themselves outside, the kids were covered in ice cream and the sun was shining. It was the informal feel to the wedding that we wanted
Advice for other couples
stick with your instincts and make the day how you want it. It's so easy to get drawn in doing things because it's the norm and trying to please everyone, but don't! Oh and book a sunny day!
Biggest Surprise
The sun shining ALL day – really couldn't believe our luck! And both of us getting through our vows without crying!
Supplier Shout Outs
K&L photography – amazing! Tom and Liam take pictures without you even know they're doing it!
Helen Bryan florist – she really 'gets' what style you want for your day and does perfect flowers to match.
The Live Wires (booked through alive network)
For more information on Tom and Liam's work at K&L Photography go to:
K&L Photography Website
K&L Photography/Blog
Facebook
01782 710300
K&L photography is the make-up of two best friends – Tom Loraso & Liam Kerrigan – who share a passion for wedding photography. We are inspired by the couples we photograph and love telling their stories through our creative photojournalistic perspective. We are based in Staffordshire and travel worldwideas destination wedding photographers.