We don't feature pre-wedding shoots very often here on Boho, but when we were sent this by Jacob & Pauline Photography, we instantly fell in love with it. The colours, the beautiful setting, the delicious cakes, that dress! I think you'll agree that this is just gorgeous and the perfect way to end the week.
"A laid back Sunday afternoon in London, soaking in some coffee, cake and colour."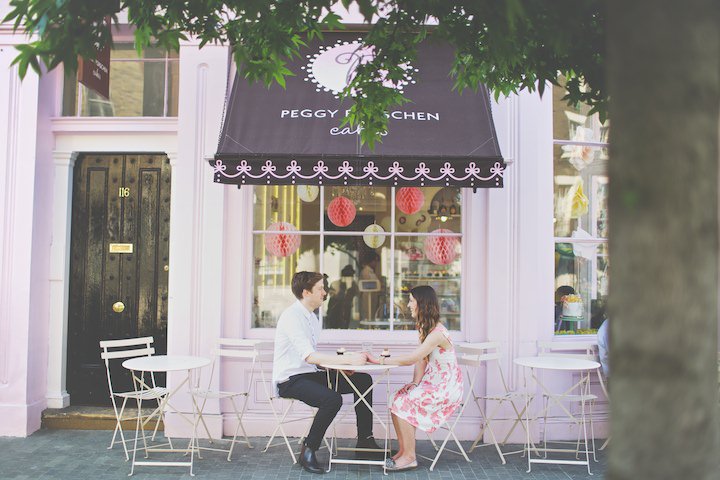 Emily and Michael are getting married on the 26th September at St Mary's Church in West Somerton with the reception at The Boathouse in Ormesby. We caught up with them at their pre-wedding shoot on the 18th May in Belgravia, London.
How they met
We met in a nightclub through a mutual friend and hit it off straight away. Michael was a DJ at the time and I was a bit of a bad girl, but now we're both complete softies!
The proposal
It was early December 2012 and Michael had just come back from a boy's weekend away. He wanted to put the Christmas decorations up early. If you know Michael, you'll know that this is very unusual. We normally decorate the tree in the last few days before Christmas but he gave me the excuse that we never get to enjoy the decorations and so we should put them up earlier this year. I went along with it as it seemed like a good idea. We put the decorations up but I felt a bit silly as it was only just December and lost interest, spending most of the night on the phone to my Mum chatting about X-Factor.
The next day Michael dragged me to Paperchase to get yet more decorations! We put them up and then proceeded with one of my favourite traditions of doing photographs by the tree. He said there was one final decoration to go up got down one knee. I couldn't think, let alone talk to say yes. I just cried!
Later I discovered that part of the boy's weekend away was to choose the ring. The proposal was supposed to be on Christmas day but he was just so excited he couldn't wait. So cute! We phoned everyone that we could straight away and celebrated with champagne. I just couldn't believe that it was happening. We'd been together so long that I just didn't think it was ever going to happen. I felt like I was on cloud nine that evening and it's felt that way ever since.
One thing you love most about each other
Michaels's so loving and so great to be around. I know it's soppy but I just like being in the same room as him. I feel complete and everything seems bare able with him there. Emily's super fun to be around, and I love that she's in love with art and performance. She might just be the only person crazy enough to put up with me and it feels like something's missing when she's not around.
Theme or colour scheme for the wedding
Bringing the outside in.
The bit of the wedding you are most looking forward to
Walking down the aisle and finally marrying the man of my dreams.
More for information on Jacob and Pauline's work please go to:
weddingphotographerduo.co.uk
weddingphotographerduo.co.uk/blog
[email protected]
07411 603 445
FACEBOOK
@JP_Weddings
We're a couple based in London focusing at creative wedding photography with a strong accent on details, packed into film look and touched with a fine art finish. We cover all UK and destination weddings – at the moment mostly in Qatar in Middle East.