Today's post is the starter to tomorrow's main course, if you like! We don't often feature engagement shoots, but love that one of our favourite photographers Laura Babb sent this through together with the wedding you will see on here tomorrow. It tells the full story of our couple Tom and Liz; it shows their passions, not only for each other but for food in particular and the pleasure they get from spending hours trawling market stalls for new culinary delights. And it's my absolutely pleasure to show you this lovely, mouth-watering shoot – if it doesn't make you hungry afterwards, I'll be very surprised!
'Borough Market is one of mine and Tom's favourite places to while away a few hours in London.  The normal pattern is that we go with empty stomachs and a decent budget and finish with our clothes bursting at the seams, broke and the proud owners of one jar of posh chutney – but it is always worth it!'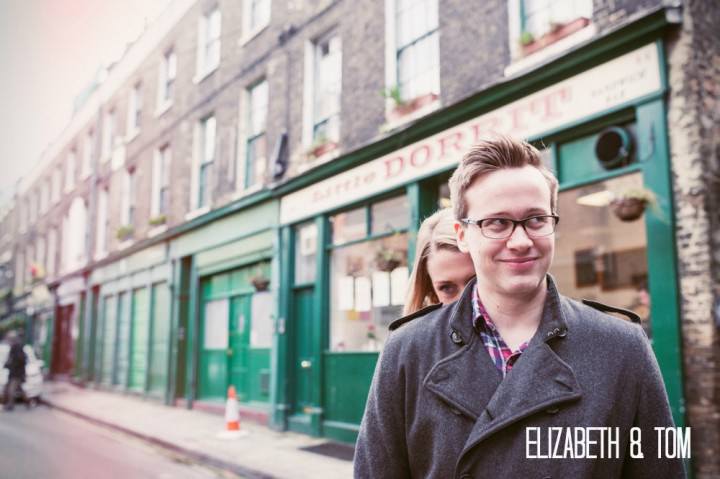 Food is, and has always been a shared passion for Tom and Liz. "It goes far beyond being a necessity and we love to discover new restaurants and recipes. We had a fab morning combining our shoot with and excuse to go to Borough (as if we need one!) and loved the way the photos captured the sights and sounds of the market. Looking back through them I swear I can smell fresh bread!"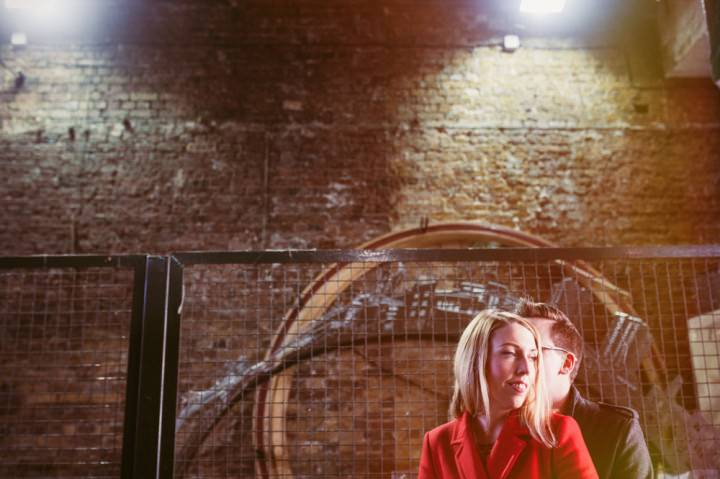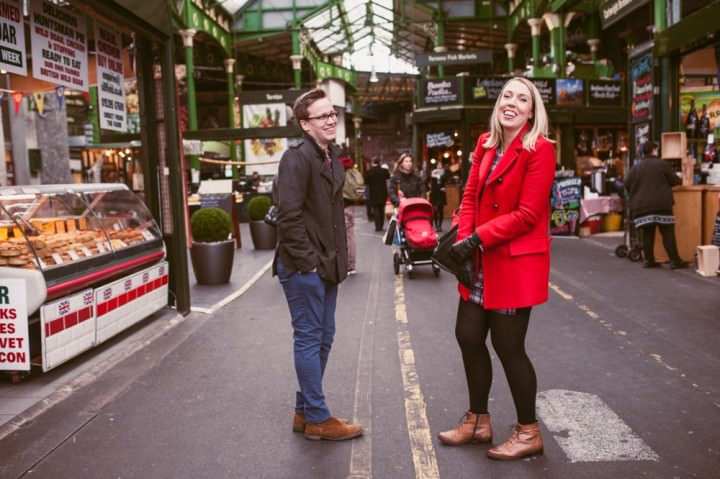 How they met
Mine and Tom's eyes met over GCSE history textbooks in 2002. After a quick snog and followed by a period of awkwardly avoiding each other Tom eventually asked me to 'go out with him' in the rather salubrious location of Charters School library. Fast forward 11 years – heaps of good times, the occasional bad time, an awful lot of laughter and some excellent material for the wedding speeches – I think those two kids in GCSE History would have had one hell of a shock if they had seen the two of us saying 'I do'.
The proposal
Tom and I love to travel, and in October 2012 we organised a trip to India which coincided with dating for 10 years. On the day itself we had booked ourselves into a boutique hotel in Rishikesh and Tom had organised us a day of Ayurvedic treatments followed by a lovely curry. Tom had told the hotel staff it was our anniversary and they had treated us with cake and flowers, but they had misconstrued it as our 'wedding anniversary'. After the 3rd time of 'congratulations on your wedding anniversary Mrs White' (bearing in mind my maiden name is Miss Hyder!) and having left it too late to correct them, I put a naff fake ring on my wedding finger to hide my blushes as we carried on our day. Unbeknownst to me, the ring I had placed on my wedding finger was the ring Tom had sneakily stolen and taken to a jeweller to size up a beautiful engagement ring which was now sewn into his money belt after furtively smuggling it into India. After the meal, on the banks of the Ganges, with beautiful views of the Himalayas, Tom got down on one knee and produced the beautiful diamond engagement ring, asking me to be his wife. Suffice to say, the naff fake wedding ring was removed at speed!





For more information on Laura's work go to
www.babbphoto.com
www.babbphoto.com/blog
FACEBOOK
@BabbPhoto