Today I am delighted to be able to share with you the last of 2013's Diary of a Boho Brides wedding. This time it is the turn of the gorgeous Charlotte and Alan who's journey we followed last year. Having chosen the countryside of the Bronte country for their wedding, they decided to mirror this with a rustic woodland theme, mixed with classic touches, along with a whole host of DIY and handmade details. Charlotte looks radiant in a stunning Ian Stuart Dress, and the whole day has been captured perfectly by Paul and Kelly from Paul Joseph Photography. It is lovely to see their day come to light after their many months of writing for the Blog, they certainly did everything they said they were going to and all the ideas have come out just as they planned. A beautiful day for a beautiful couple.
'Our wedding was more beautiful than we ever dreamed it would be, full of love, laughter, music and dancing with all our favourite people. Simply the best day ever!'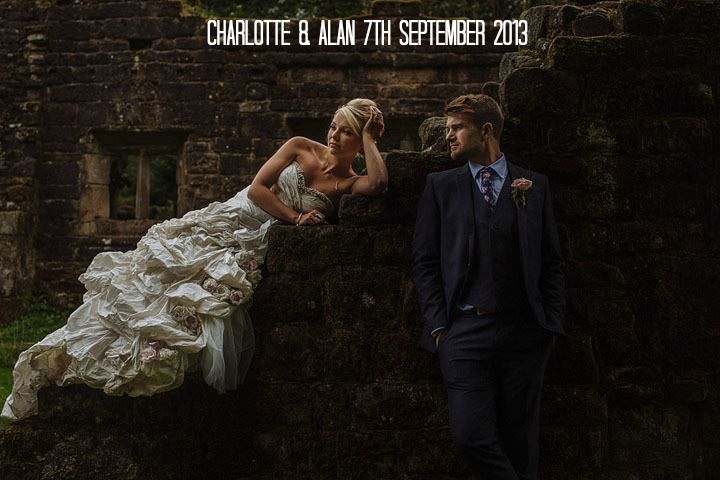 Charlotte and Alan were married on the 7th of September in a ceremony at Saint Michael and All Angles church in Haworth, in the heart of Bronte Country. This was followed by a reception at The Alma Inn, Laneshaw Bridge. 'Together with our little pooch Paddy we spend a lot of weekends in Haworth, walking on the moorland, the inspiration for many great novels by the Bronte sisters before enjoying tea and cakes at one of its many tearooms. The church sits prominently at the top of the famous cobbled street and is simply stunning. Everyone is welcome in this church even our little fury friends so with our little Paddy as guest of honour it was a no brainer! 96 guests attended the church and wedding breakfast, with 200 attending our evening reception for a midnight feast and dancing the night away to a live band. Our wedding was 2 years in the planning….and I loved every single minute of it.'
How they met
We first met approximately 9 years ago at our local golf club where I worked behind the bar and after a round of golf Alan told his best man Gary " she will be mine one day mate". A few years later following both of us becoming newly single we went on our first date and the rest is history.
The proposal
Alan was working away at a golf tournament in Switzerland; I travelled to meet him for the weekend. On a sunny Saturday afternoon we headed up the mountain to a glacier at the summit. Following a cable car ride and a short hike Alan went down on bended knee, I thought he was ill at first struggling to breathe due to the altitude and hunting around for the ring in his top pocket. Needless to say it was my breath that was taken away at the sight of a Paul Spurgeon diamond ring from our favourite contemporary jewellers "Element" in Hebden Bridge.
How did you allocate your budget?
We were very fortunate that both our parents gave generously to our wedding and budgeting was not really a big concern. We had a total figure in mind but didn't get too hung up on splitting it up for individual areas. We didn't however splurge out on things we felt we could make ourselves to give our day the personal touch. When shopping around for stationary and favours we simply couldn't find the perfect products, so not only did we find making them cheaper but we could create exactly what we wanted too.
Why did you choose your photographer?
Our photographers were the amazing Paul and Kelly of Paul Joseph Photography. After viewing a friend's wedding shoot on Facebook and getting in touch with these two crazy cats we met for a beer in the local pub. We instantly hit it off; they are fun, quirky, wonderful people. They put us forward to take part in Kelly's hunt for diary of a Boho bride where we were able to share our wedding journey with its lovely readers and meet its fellow couples Becki and Jonny, Nick and Joanne. They helped with all aspects of the wedding giving great advice on wedding dress designers, venue queries and helping to diminish those stressful moments. It was like having two more friends at our wedding and our guests loved them as much as we did.
The dress
I purchased my Ian Stuart gown from Ava Rose Hamilton in Silsden. The gown was Rhapsodia from his killer queen collection. The girls at the boutique were wonderful and made my experience every bit the things little girls dream of. My customised made to measure dress is my pride and joy, full of Swarovski crystals, flower corsages, layers of tulle and a long billowing train. The dress had so much beautiful detail that I kept my accessories to a minimum. A simple diamond pendant necklace borrowed from my mum's jewellery box and my something new a pair of diamond earrings given to me as a surprise present by my husband to be on the morning of our wedding. My shoes were an impulse buy whilst at the National Wedding Fair at the Birmingham NEC. My makeup was by Lauren Rippen. I came across her work when browsing online. On contacting her I felt there was an instant connection and her emails were full of warmth and friendliness. I treated all the girls to their make up doing on the day, we all loved it and it really did last all day. Lauren made little touch up kits for us too. I would highly recommend to use a professional make-up artist it's one less thing to worry about on the day and make you feel and look like a princess.
The suit and bridesmaids
After weighing up the pros and cons of renting or buying we decided on purchasing the suits from Marks and Spencer. Always one for keeping up with fashion Alan was keen to have slim fitting, blue three piece suits with skinny ties. These were complimented with tan brogues and skinny belts from Next and blue and white fine striped shirts from Charles Tyrwhitt. While the rest of the gents wore aubergine ties to match the bridesmaids, Al wore a flower print tie from Topshop.
The girls were just as easy to please. We went shopping in the January sales at Monsoon finding floor length aubergine maxi dresses and flat jewelled sandals from Marks and Spencer that they will all be able to wear again. Accessories were from my TU by Sainsbury's and all the girls wore Pandora friendship bracelets. The forecast gave rain for the big day so I purchased pretty pink umbrellas in preparation, luckily we didn't need them, but due to the location of our venue and photo opportunities, myself and the girls wore our trusty wellington boots under our dresses just in case.
Theme or colour scheme
We envisaged a rustic woodland theme in keeping with the beautiful surroundings of Haworth and the venue. We chose a colour scheme of dusky pink and aubergine with lots of neutral tones and textures thrown in.
Flowers
Julia and her team at flower couture in Bingley did a breathtakingly good job of bringing our woodland theme to life. I provided Julia with log centre pieces from my uncle's farm, she placed a candles on them and covered them in moss, dusky pink and ivory roses, thistle, wax flower, pearls and diamantes. The same flowers were used in all of the bouquets and button holes, but willow was added and they were wrapped with hessian. I wanted the flower girls to through petals so Julia made them baskets made of wood bark to carry. Putting trust in a florist is a huge thing, I went with all these ideas of what I wanted but it's not until the day you get to see what the finished product looks like. It was an emotional moment walking into the venue and seeing what Julia had done…I can't thank her enough for bringing my ideas to life in such stunning way.
Decoration
I wanted lots of personal touches, I am really picky when it comes to attention to detail….as a result I wouldn't allow anyone to help for fear it wouldn't meet my standard, I turned a tad bit bridezilla at this point, sorry!!
The decoration incorporated my rustic woodland theme, which was really carried throughout the whole wedding from stationary to church, to venue and photography.
I tried to bring the outside inside in using logs and tree branches at the venue. We used a lot of candlelight as we love natural light and used raffia and wooden/material hearts everywhere.
Food
Anyone who has eaten at the Alma Inn will know how delicious their menu is. Choosing the wedding breakfast was really hard so of course we had to keep visiting in the run up to the big day to do some all-important taste testing. We settled on a mixture of canapés served with Pimms on arrival. Soup to start was Cauliflower and Lancashire cheese. Traditional roast beef and Yorkshire pudding with all the trimmings followed and to finish there was a choice of that old favourite sticky toffee or melt in the middle chocolate pudding. If that wasn't enough, during the evening reception guests were treated to mini paper cones filled with fish and chips.
Wedding Cake
Our wedding cake was a surprise to us when we arrived, a good friend of ours offered to make our cake, so giving her details of our theme we left it in her capable hands. Jeanette created us a three tier beauty consisting of fruit, chocolate and lemon drizzle cake. The flowers were handmade to match those on my dress and it sat proud on a log surrounded by photos of loved ones who could not be with us.
Entertainment
Al had created playlists for the whole day, they included well thought out and personal song choices for the church, guests arrival and during the meal. The evening bash was all about "China Sky", a fabulous local band that kept all our guests dancing until dawn. I told the lead singer Darren who is a friend of the family that I wanted everyone to dance the night away and they certainly delivered.
Buy or DIY your Stationery?
All of our stationary was DIY. We spent many an evening stamping, gluing and diamante sticking our pocket folds. My bridesmaid Marie had the pleasure of hand writing them all for us too. We took inspiration from a fellow boho bride Becki when she showcased her invites on the blog….thanks Becki!!
Personal or handmade touches
Our day was full of personal touches and DIY projects:
• We decorated the church with wicker hearts and a handmade sign asking our guests to pick a seat not a side.
• We hired a classic car to self-drive from the church to the reception and our bridesmaid tied tin cans to the back with messages on for us .
• The staff at the Alma decorated the Inn for us with everything I had provided, they created a table for my handmade wishing tree.
• My decorated jam jars filled with flowers and tea lights looked beautiful on the fireplace.
• The cake table was placed in the garden room where we ate, it had on it special photos of Alan's Dad and Uncle and my Grandma who were no longer with us to share our special day, our florist had also displayed their favourite flowers on this table too…it was nice to know a part of them were joining in the celebration.
• The handmade favours of heart shaped jam jars filled with chilli chocolate dipping for the girls and a bottle filled with spirit for the men complimented the pine cone strewn tables each named after a famous Battle, in keeping with my maiden name.
• For the evening party we purchased blow up guitars and microphones which provided endless hours of fun.
Special moments or highlights
A special moment for me was when my dad gave me a present from Al, a box containing diamond earrings was a wonderful surprise, however it was the ipod in my card that set the tears rolling. Titled Lottie's playlist, Al had created me a music montage of our favourite songs to listen too whilst getting ready. Such a little thing that meant the world. The whole day was unbelievable and looking back on our photos one thing is evident, we laughed all day…we had so much fun together we laughed in church, we laughed during the speeches (and cried) we laughed at everyone's outrageous dance moves!! As a girl I think the most special moment was taking that deep breath at the church door, taking my dad's hand a starting the most important walk of my life, and everyone was smiling at me and my music was playing and Al was there at the bottom beaming. That's one special moment.
Biggest surprise
The great British weather was kind to us!
Advice for other couples
My advice is most probably the same as everyone else's: take time out at some point during the day to sit as husband and wife, with a glass of fizz and just take it all in. It really does go as fast as everyone says it does so cherish every single minute. We were really conscious about enjoying ourselves and not spending all day separate doing the rounds. So once everyone was as the evening reception and we had greeted them we spent the rest of the evening dancing, I got changed into my favourite little black dress and danced until I couldn't stand any longer.
Supplier Shout Outs:
For more information on Kelly and Paul's work go to:
www.pauljosephphotography.co.uk
pauljosephphotography.co.uk/blog
FACEBOOK
@paul_PJPhoto