Happy Monday everyone and what a scorcher it is! Did you all have a good weekend? Did you manage to get out and enjoy this amazing weather we are having? Isn't it glorious!! Well it looks like it is going to hang around fora bit longer, so I hope you all get to make the most of it! For once it looks like we are going to have a decent summer! I have a gorgeous Vow Renewal for you today. It's not often I post Vow Renewals, but when they are shot in the romantic city of Paris by the hugely talented Sassy from Assassynation then how could I say no! Sassy has done a fabulous job of really capturing Paris and showing us round this amazing city, I feel like I'm there with Sarah and Ray! And what a lovely idea to renew their vows after 10 years of marriage. I hope to go back to Ibiza one day with Nik for our Vow Renewal.
'A whistle stop photo shoot in Paris with Assassynation followed by a Vows Renewal with our own vows on the roof tops of Paris.'
Sarah and Ray who held their vow renewal on 28th April 2013 in Paris, followed by a party in our home town of Plymouth. 'I wanted to do something really special for our 10th Wedding Anniversary. We've had some amazing short city breaks in our 10 years of marriage but we hadn't been to Paris together and it seemed like the perfect choice for a romantic break. So I booked a couple of flights to Paris as a surprise for Sarah. I was keen to do a vows renewal as we didn't write our own vows for the wedding, I also booked The Treasury Bar in Plymouth for a party with all our friends and family.
I started thinking it would be great to do a couple shoot as our wedding photos were so bad (We let budget become a priority – big mistake). Being a wedding film maker I know so many amazing photographers, but I knew Sassy through Lisa Devlin's amazing Wedding Photography community – Photography Farm. Sarah loved Sassy's work as much as I did so I called her and after a few conversations we'd planned to do the Shoot and Vows Renewal in Paris.It was just us and Sassy and Zoe Campbell (another Photography Farmer who came along to assist Sassy) It took a few months of pre planning in secret, before I decided I had to tell Sarah as I knew she'd want to buy a special dress for the occasion.'
How they met
We were together at school when we were 15 years old. Sarah moved to New Zealand and then five years later I walked into my favourite bar to find Sarah working there. After about 6 months of seeing her in the bar every weekend I gathered up the courage to ask her out on a date and we have been together ever since for the last 15 years and married for 10.
Why did you choose your photographer?
Ray was trying to keep the fact that he had arranged for 'Sassy' (he knew I was a big fan of her work and that I love the way she shoots weddings and the fact that our original wedding photographer was rubbish!) to come to Paris to do a photo shoot with us for our Vows Renewal but decided to tell me in advance so that I could find a dress to wear (I would have killed him if hadn't given me enough notice to find an outfit!)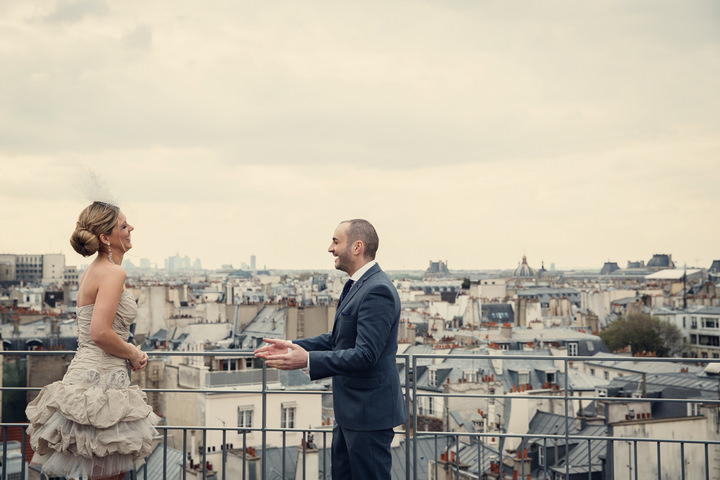 The dress
The dress is by Linea Raffaelli from the Bridal Rooms of Wellswood in Torquay. I saw the dress online and it was exactly the kind of dress I was looking for and when I went to try it on it turned out to be the same shop I originally brought my bridesmaids dresses from for our wedding 10 years ago!)
Headpieces were also from the Bridal Rooms of Wellswood and Jo the owner made alterations to them too make them more extravagant!
Earrings and Bracelet, featuring Swarskoski crystals also from Bridal Rooms of Wellswood.
Shoes are from Badgley Mischka.
The suit
Ray's suit is by Ted Baker, shirt and tie are from Hugo Boss and his shoes are by Oliver Sweeney.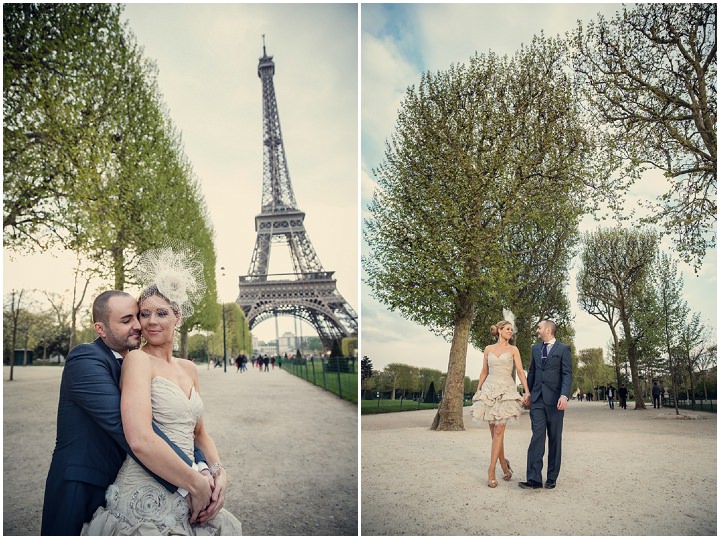 Theme or colour scheme
We both wanted to choose outfits that weren't too much like wedding attire but still looked like a couple celebrating something special together.
Food
Buffalo Burger and Fries at an American Diner opposite the Moulin Rouge.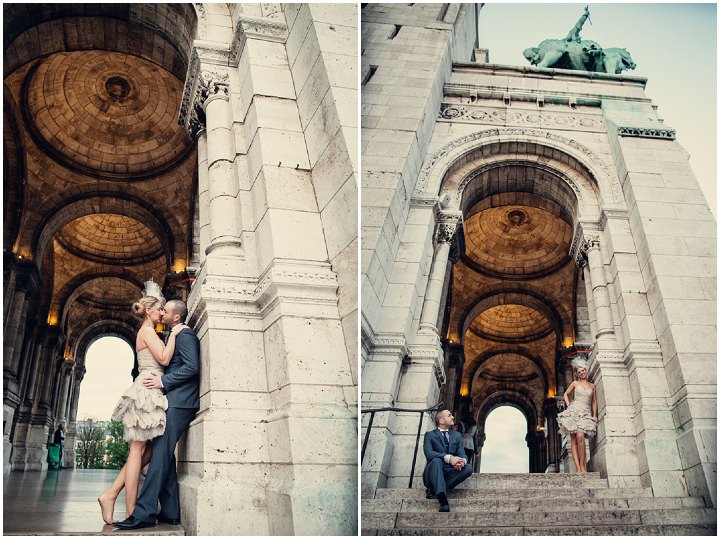 Special moments
I think the most special moment was the first look on the rooftop garden and then when we came to renew our vows after our photo shoot, it wasn't planned but it just happened to be midnight and the Eiffel Tower was twinkling in the background.
Biggest surprise
France being a majority catholic country, we thought that the Eiffel Tower and Moulin Rouge wouldn't be too busy on a Sunday, we couldn't have been more wrong! There were hundreds of people at all the locations staring at us and we had busloads of Japanese tourist's taking pictures as well and 2 Japanese girls that joined us in a photo! Also we didn't realise how much we would actually enjoy the photo shoot.
Paris Vows Renewal & 10 Year Anniversary from Ray McShane on Vimeo.
Supplier Shout Outs
For more information on Sassy's work go to
www.assassynation.co.uk
[email protected]
Sassy on FACEBOOK
Sassy on TWITTER
07968948114