This afternoon we welcome back Cary's to Diary of a Boho Bride. Carys is getting married in September on the beautiful Greek Island of Cephalonia. Last time Carys told us all about her Big Fat Greek Wedding Feast, and today she is sharing with us her plans for her UK party. A lot of people who get married abroad have a party back in the UK. The main reason being that if people can't make the wedding aboard it's a chance for them to join in the couples celebrations, plus as  Carys says it's a brilliant excuse to wear the dress again!
I'd love to hear from you if you are getting married abroad and planning a UK party, how has this added to your planning stress? have you found it easy? or has it all seemed like an added pressure? If you have decided not to have a party in the UK what made you decide not to?
I'll pass the Blog over to Carys………….
As I sit in the garden writing my latest diary entry in the glorious Welsh sunshine, it has dawned on me that I'm getting rather excited about our Greek wedding in less than four months time!! Rewind to this time last year and Aaron had moved to Dubai with work and unbeknown to me was planning a June proposal. With many of our guests having now booked their hotels and flights to Cephalonia it is all starting to feel ever so slightly real!
Readers of my blog will know that we are having an intimate wedding in Greece this September. There are people that we have invited who sadly cannot make it, like two of my closest friends Beth and Emma who are both teachers and therefore cannot fly out in term time, as well as Aaron's Nan and Grandma who are two very important ladies in our lives. So it was essential for us to be able to celebrate our marriage with all of our family, friends and colleagues who may not be joining us in Cephalonia but who are sharing the excitement of our wedding planning with us every step of the way.
So whilst we have been busy planning a Greek wedding, we have also been very busy planning a Welsh wedding party on our return. We knew we wanted the party back home to be quite soon after the wedding (whilst I can still fit in my dress!) so we set a date for Friday the 27th of September – three weeks after our Greek wedding. We really wanted to have the party somewhere local that meant something to us both, just as Cephalonia does. As soon as we started looking into different venues we soon realised how expensive anything wedding related is in the UK in comparison to Greece.
We live just outside the beautiful village of Cowbridge in the Vale of Glamorgan and we spend nearly all of our time here. It was in Cowbridge that we had our very first date, so it is a special place. There were a few potential venues around this area that we loved. The Vale of Glamorgan is on the coast so you are spoilt for choice with wedding venues ranging from the seaside to the countryside. A lot of venues we looked at offered quite formal packages and we were keen not to have an evening wedding reception – we just want a really good party! We also wanted to find a venue that didn't require too much work. I really loved these beautiful barns that are available to hire locally but they required a lot of organisation and decoration and we really don't want to come back from Greece and have a huge amount of work to do for a party. We wanted to find a venue that was simple and beautiful without the need for too much embellishment.
We looked around quite a few venues locally with the help and organisation of my Mum, ranging from a local manor house to a gorgeous castle by the sea! But in all honesty from the very beginning we had our hearts set on the beautiful Bear Hotel in the centre of Cowbridge.
Over the years we have been to a few lovely weddings there for friends. We spend many an hour in the winter by the log fire enjoying a Sunday roast and many a summer's day relaxing in the sunny courtyard over a vino or two so I arranged a meeting with their wedding co-ordinator Nicola to look around the venue with my bride hat on. Aaron was away with work for the initial meeting so I took my bridesmaid Catie to keep my feet on the ground! The venue ticked all the boxes for me – lovely light, spacious function room with a large dance floor – perfect for Zorba's dance – private bar, and a beautiful adjoining Mediterranean courtyard. From the beginning the wedding team at The Bear Hotel have been really helpful and flexible in enabling us to fit in our planning and payments around our Greek wedding plans.
As regular diners at The Bear Hotel, we know just how good the food is. In my last blog I wrote about the delicious dishes that we will be enjoying in Greece, and we wanted food for our evening party to be as relaxed and informal so we've opted for a hog roast with lots of side salads. Yum yum!! As well as a love of food, music is big passion of ours. We have spent so much time together at gigs over the years and most of our friends are placing bets that our first dance will involve some sort of rock song and a circle pit!! My Dad, who is a jazz guitarist, will be sat out in the courtyard at The Bear Hotel playing guitar as the guests arrive (please let the weather be as Grecian as the theme!) For the evening's entertainment we have booked a friend of mine, Grant, who is a wedding DJ running The Boutique Disco in South Wales . I recently went to a friend's wedding in which Grant was the DJ and evening photographer and I was so impressed – he managed to get everyone up on their feet, which we really want to see and the photos of the night were fantastic. Grant will take care of the personalised music (we have promised not to subject our guests to too much Bring Me The Horizon!), the lighting and he will also be providing a large screen to project the wedding images up for our guests to see. We're hoping that our Greek wedding guests will help Aaron and I out when it comes to teaching everyone else a little bit of traditional Greek dancing!!
We want a really fun night without any formality. There will be lots of little Greek touches to the evening and the decoration will be coastal inspired. I made vanilla cupcakes for my brother's wedding last year which went down a treat so I've decided that I'll do my own for our party (is that crazy?!).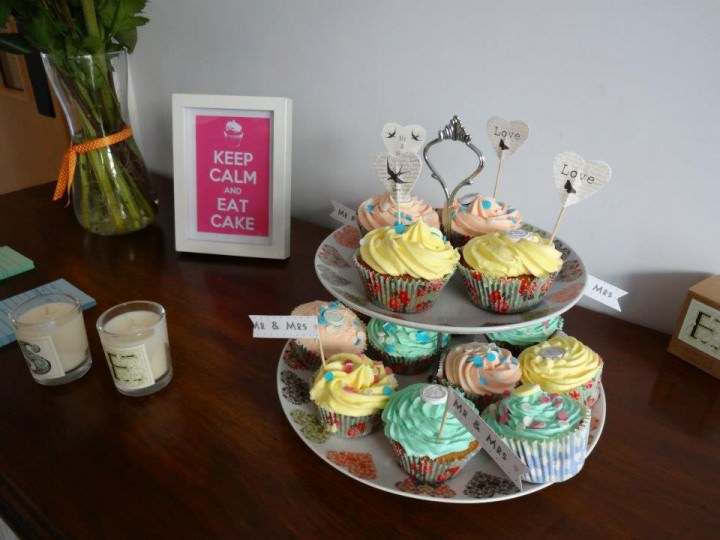 We're going to decorate the lovely courtyard with lots of little lanterns and tealights so that it feels very cosy and romantic and hopefully people will be able to sit outside weather permitting. I want to have made/purchased all of the room and table decorations prior to going out to Greece so that we don't have too much stress when we come back (watch this space!!).
I think that one of the most exciting things for me is the fact that I will have a perfect excuse to wear my beautiful dress again! Most brides only get to wear their dress once but my groom and I will get to put on our wedding day outfits once more and feel that magic back in our beautiful Cowbridge surrounded by all of our family and friends. So lots sorted already but still so much to get organising. But with the Welsh winter finally appearing to be over at long last with a Narnia-style thaw and the summer on the way, we could not be enjoying it more…crack open the Robola!
Has anyone else got married abroad and had a party on their return home? Any tips/advice always welcome!
Carys xx
Venue:  www.bearhotel.com
Decor ideas: Photo bunting, Table layout,  Tea light holders,  Mason Jars,  Anchored table,  sand and seashell vases.