I know I say this every week but I really cannot believe it's Friday already! where on earth has the week gone? I hope it's been a good one for you? To end the week I have a full on DIY wedding for you sent into me by Samantha J.  Not only has the bride arranged her own flowers, made her invitations, made her own decorations but she has also designed and made her own wedding dress as well as the bridesmaids dresses……plus she and a few others sang during the wedding reception!
The lovely couple are Helen and Martin who were married on 2nd June 2012. The ceremony and cream teas were at St Leonard's Church, Frankley, Birmingham. And the Reception was held at Rowheath Pavillion, Bournville, Birmingham, they had 100 guests
'Our wedding was homemade and relaxed.  So much of the day was handmade by us and our family, it really was very personal and what we wanted. We had friends and family join with the day, from helping with some of the decoration, through to them singing and playing at the evening reception.'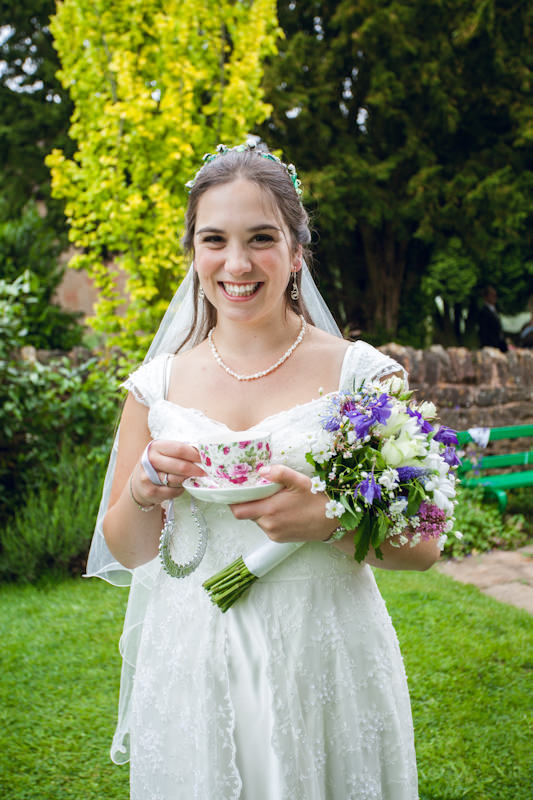 How they met
Its seems like history was repeating itself as we actually met at the same University that Martin's parents met. We were in the University's Musical Theatre Society together – I was on stage, while Martin filmed the shows and played in the band. Funnily enough it was even the same musical society that Martin's parents met!
We've known each other for 5 years and have been together for the past 3. Time has flown by, but I couldn't be happier!
The proposal
The proposal took place at my parent's house, where I was living at the time, on the evening of Christmas Day 2010. We had separated away from the family for a moment to open each other's gifts and Martin proposed amid the fairy lights, candles and torn wrapping paper. I still have a childlike excitement for Christmas so it was quite magical, and perfectly timed as only weeks later I left to go on national tour with a theatre company.
The wedding planning
Our engagement was 18 months long, but much of the preparations (except booking venues) took place in the year running up to the wedding. I was away on a theatre tour for the first 7 months after the engagement, and there's only so much wedding prep that can be done on the road when living out of a suitcase!
The venue
We got married in my home church where we have been worshipping for the past few years since my parents moved to the parish. My Dad is actually the Priest in Charge at St Leonard's, so instead of giving me away, he actually married us!
How did you choose your photographer
We were very particular about our photographer. Martin is a photographer and videographer himself, so we had very high standards! We'd looked at so many local photographers and been quite disheartened by the quality of their work. We had always said that the photography was the one thing we'd splash out a little on as it's so important to the both of us, and we appreciate the time and expense for photographers, and that quality is worth paying for.
But Sam was a dream! When we at last came across her website and blog we got very excited and contacted her immediately to see if she would be free on our wedding day. She takes such stunning photos, in a style that we both love, and at a reasonable cost. Not to mention how brilliant and fun she is as a person. We had such a laugh with her on our engagement shoot and felt utterly comfortable in front of her on the day.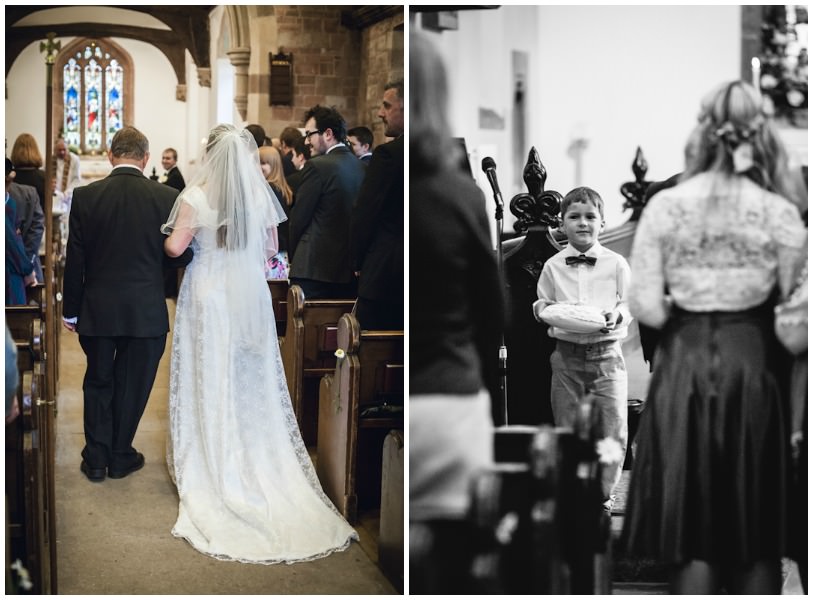 The Dress
I actually made my own dress! I had been designing it from a young age, and after getting into dress making a bit over the past few years, decided to give it a go. After all there would never be one in a shop with such specifics about it.
It was brilliant fun and I have no regrets about making it myself. I created the pattern, to match the exact design details I'd dreamt of, and it turned out wonderfully. It was a little sad not to have the fun of trying on dresses, but the thrill when first putting on the dress and it fitting so perfectly was immeasurable!
The headpiece was also hand-made, along with matching beading detail on my shoes, which were bought from ebay for a fraction of the usual wedding shoe price.
The jewellery I wore was a mix of old and new, the pearl necklace was a birthday present from Martin, and the earrings were bought new to match the necklaces given to the bridesmaids as their gifts. The watch was an 18th birthday present from Helen's Nanny who couldn't be there on the day.
The suit and bridesmaids
Martin's suit was hired from Nicholas Smith, and the bridesmaid dresses were again made by myself, as was the bowtie worn by the ring bearer.
Theme
The colour theme for the day was the deep emerald green of the bridesmaid dresses. So this was reflected in various parts of the day, from the ribbon on invitations, orders of services and favours, to the chair covers at the reception.
Other than colour, we were going for a country cottage style. For example our table centres were herbs in terracotta pots, tied around with lace. We both love cooking together and using ingredients, so the pots are now on our patio and being well used. Practical as well as pretty!
Food
We served cream teas at the church hall following the ceremony while some of the photos were taking place, which went down really well.
Then at the reception, the caterers served Pan seared fillet of Pork , Normandy style with Calvados gravy, potato dauphinoise and vegetables, or a Garden vegetable Bouchée. Followed by a trio of deserts, and a cheese board with the coffee.
Entertainment
We're not a pair for partying or dancing, we just wanted a simple and relaxed evening. But we did have a short section of 'entertainment' mid-evening when a few of our friends and family sang a song or two. It started with two of my bridesmaids and myself singing 'Paper Moon' by Ella Fitzgerald, and included my parents singing and playing a Cornish love song duet, (My Mum's side are all from Cornwall). My sister and brother-in-law, and bridesmaids also sang, and then I tied it up with singing a little known song by John Denver for Martin, called 'Perhaps Love'. A beautiful song, but it all got very emotional at that point, especially after seeing my mum crying, and words may well have got lost!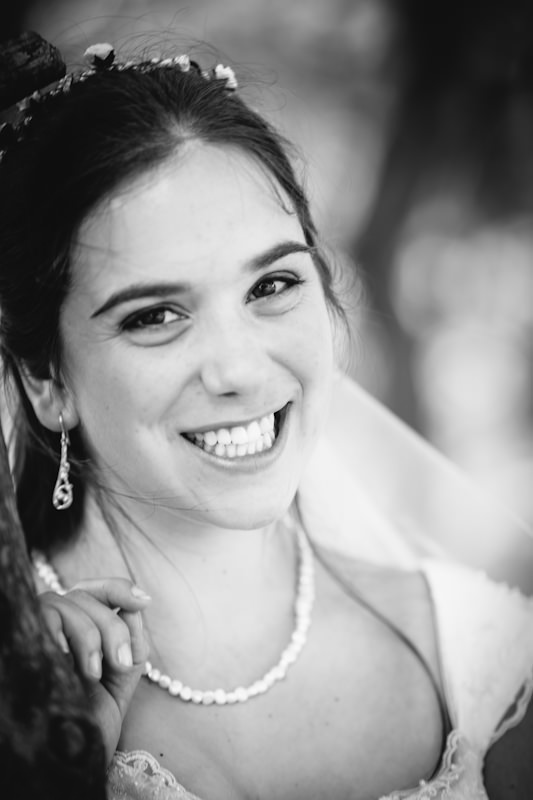 Flowers
We filled both the church and the reception with flowers. My mum, some ladies from church, and myself arranged them, following our country style, the flowers were all those you'd expect to find in a typical English garden or hedgerow. We had some trouble with the flowers we planted being late this year, so we couldn't have as many home grown flowers as we had hoped for. There were plenty of small cream roses, and daisy like flowers, Helen's favourite. We also used some herbs within the arrangements, to help add to the scent of the church as well as the beauty.
The night before the wedding I was up making the bouquets, and the button holes by my mum in the morning.
Decoration
There was a lot of decoration, especially at the reception venue. As well as flowers, we had some gorgeous bunting, which set up the feel of the venue perfectly. We also strung up strings of hearts and birds etc that were made by friends at my hen party.
Personal touches
• Wedding dress and all three bridesmaid dresses, plus the bowtie for our ring bearer.
• Brides headpiece and the added beading on the shoes.
• Invitations and orders of service were all designed and made by myself.
• Martin and Helen made peppermint creams to go inside the favour boxes that were then decorated by my mum, sister, and myself.
• Helen also made an origami swan to go on each table beside the herb table centres, which she had potted up – each with a Slate label and gift tag attached saying a little about the herb and any connections to the bride and groom.
• The felt hearts and birds that were strung up around the reception venue were made by Helen and her friends at the hen party, they also helped with a few other little creative bits for the day.
• Helen's mum and sister made and decorated the cake – it was a three tier cake with lemon sponge, chocolate sponge and fruit cake.
• Helen, her mum and a few others also did all of the flower arrangements, the bouquets, button holes.
• Helen's mum made the scones for the cream teas.
• Helen also made the ring cushion, confetti, and individually made gift tags in which guests wrote their well wisher notes before stringing them alongside the felt birds at the reception.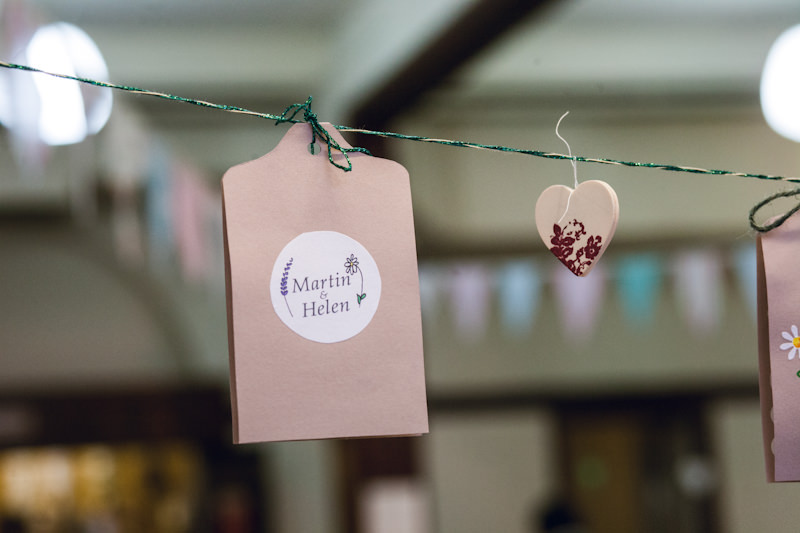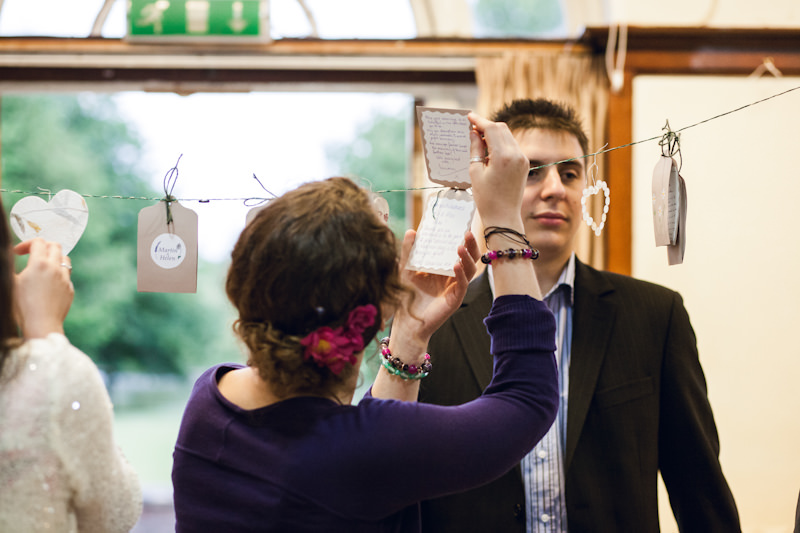 Special moments
Just having everyone there, and every moment being so personal to us, from all the things we made towards it, to Helen's Dad conducting the service, and our friends and family providing the entertainment.
Advice
Make it how you want it. We were very lucky in that we had no one telling us how things should be done, we chose everything ourselves. Also do all you can to make it more personal to you, if you are creative, create for it! Or ask creative and willing friends and family to help. The hen party was such fun with everyone getting involved and knowing that they were contributing to the day themselves.
On the day itself. Find time to break away, just the two of you, to look around at everything and everyone, to observe rather than being the ones being constantly observed. During the cream teas, we took a moment to go back into church, just the two of us and look properly at the flowers and take in the fact that we were now married!
Also, if something doesn't go to plan, don't let it worry or upset you. Sadly our nephews who were due to be page boys had come down with chicken pox and so couldn't be there, which was such a shame. Helen's Godfather's son stepped in as our ring bearer, and we saw our nephews afterwards, taking them some things from the wedding.
The day goes by in a blink, so take it all in while you can.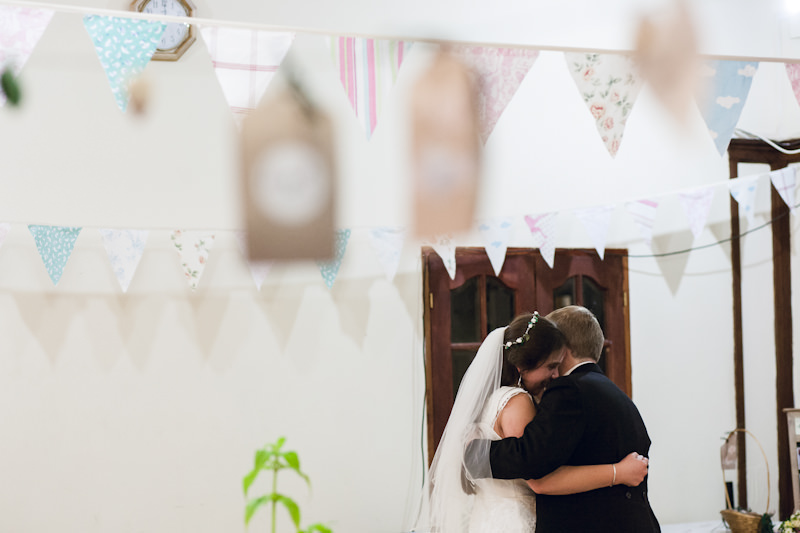 Supplier Shout Outs
For more information on Samantha's work go to
www.samantha-j.co.uk
http://samanthajphotography.blogspot.co.uk/
[email protected]
FACEBOOK
TWITTER
07772 720507
♥  You can see more Real Weddings on the Boho Blog HERE  ♥