Todays wedding is another beauty and one of my favourite sorts of weddings, a Tipi wedding! If I were to get married again and do it in the UK I woud definatley be having a Tipi tent and for once Nik actaully agrees with me, he loves them aswell!
This wedding took place in Aislaby in North Yorkshire and it's the wedding of Nina and Graham and was sent into me my Mark at Tierney Photography. I featured Nina and Graham's pre wedding shoot HERE back in June and it was totally gorgeous! Mark has catured the day perfectly, from the getting ready shots right through to the first dance. The low light in the field is stunning and and he has captured some amazing portraight shots of Nina and Graham which I'm sure they will treasure forever.
As for the wedding itslef it looks like a fabulous day. The sun shone down on the Papakata tent and the guests look happy and relaxed. The papakata tent is perect for the rusytic theme they have picked with lost of lovely wild flowers, lanterns and gorgeous little deatils. The guests were treated to soem amazing food, a fab venue and Nina the bride then sang alon with The White Keys later on in the evening.
Mark has been kind enough to put the wedding into his own words 'Here are some of my favourite images taken at the wedding of Nina and Graham. The happy couple were married in the village of Aislaby in the heart of the beautiful Esk Valley, near Whitby which is home to Nina's parents. Following a ceremony at the village church the wedding party enjoyed canapés in the gardens before heading off for a reception at Nina's parents farm. On route I was able to capture a few images of the bridal car – a vintage Daimler that had been lovingly restored by the father of the bride, and in fact was not completed until the night before the wedding! Nina and Graham chose an English country garden theme for their special day and the setting was just perfect. Erected in a field behind the family home stood a large papakata tepee – the venue for the wedding celebrations was the ideal choice set amongst the stunning North Yorkshire countryside. As Graham is a photographer himself I felt very honoured to be photographing his big day, I thoroughly enjoyed the unique theme and the newly-weds were great to work with! I hope you enjoy these images from Nina and Graham's special day.'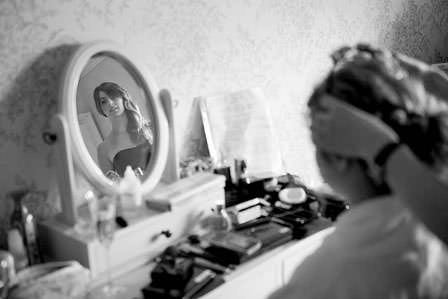 I'd like to say a massive thank you to Nina and Graham for letting me post their gorgeous wedding photos and also to Mark for submitting them, it's such a lovely wedding.
Big Boho Love
Kelly xx
For more information about Marks services got to:
www.tierneyphotography.co.uk
tierneyphotography.co.uk/blog
[email protected]
FACEBOOK
TWITTER
07981 347019